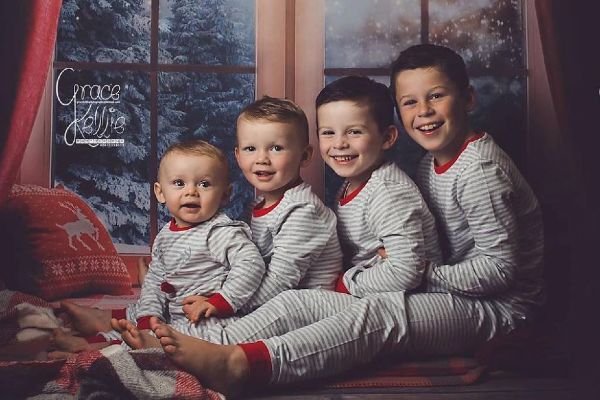 We can't handle the cuteness.
Coleen and Wayen Rooney have released their official annual family Christmas card and their four boys look so gorgeous.
The kids – nine-year-old Kai, five-year-old Klay, two-year-old Kit and nine-month-old Cass are clad in matching striped pyjamas, smiling at the camera.
We CAN'T.
The photo shoot was carried out by Liverpool-based photographer Grace Kellie, who has snapped the Rooney family before and with mum Coleen plans to use the pictures to make Christmas cards for close family and friends this year.
Kellie Stamper, Director of Grace Kellie Photography, said, "It's always a pleasure to have Coleen and her four adorable boys back in my studio.''
She continued, ''The youngest two were just days old when I first photographed them, so it's lovely to see how much they've grown.''
She added, "Having customers return time and time again reassures me that I'm doing my job well; that they not only love the photography I create, but also feel at ease in my studio and with my art direction."
Coleen, who has been married to husband Wayne for ten years, often posts about her four adorbs sons on social media and it seems that her fans loved the Christmas card as much as we did.
One wrote, ''Beautiful picture'' while another said, ''Gorgeous'' with four love heart emojis.
We agree – your fam is fab, Coleen!