Now listen, I can't imagine anyone would ever need to be convinced to visit Barbados.
Stunning sandy beaches and the glistening ocean? I'm already convinced.
However, we actually didn't realise how much more this little island has to offer visitors.
So, if you are lucky enough to be heading to Rihanna's home country this summer, keep reading, as we've done up a list of some of the amazing things you should see and do.
1. Harrison's Cave.
Get ready to delve underground, and follow the winding tunnels and caverns of Harrison's Cave – one of the island's most breathtaking natural wonders.
Laden to the brim with bulbous stalagmites and stalactites (which we all remember from Junior Cert geography), the subterranean passages here hide echoing chambers like the 50-meter-high Great Hall and curious geological formations, like the so-called Altar, formed from millions of years of mineral deposits.
2. Huntes Gardens.
It's not all sand and sea in this gorgeous nation; Barbados has significant greenery to offer it's visitors.
Hunte's Gardens is a botanical garden and significant tourist attraction in the St Joseph Area of central Barbados. It was created from the 1950s by horticulturist Anthony Hunte in an unusual sink-hole-like gully.
3. Wander around Bridgetown.
The UNESCO-attested capital of Barbados is Bridgetown, and it is magnificent!
The city is packed with pretty little historic sites like the Chamberlain Bridge and the gorgeous neo-Gothic Parliament Buildings, built in the high style of Victorian England.
There are sun-splashed squares where little rum bars are busy with the chat of travellers and off-duty local fishermen alike. Perfection.
4. Oistins Fish Fry.
This lively event is considered to be a rite of passage for first-time visitors hitting the sandy shores of Barbados.
Kicking off every Friday and Saturday night on the streets between Welches Beach and Miami Beach on the south coast, the party is amazing craic.
There are sizzling BBQs cooking up some of the freshest swordfish, mahi mahi and lobster you have ever tasted, along with live bands spouting a medley of reggaeton and samba, steel drums and Bajan folk.
5. Hug the baobab of Queen's Park.
The colossal trunk of Barbados' largest tree can be found (and hugged, at least if there's a group of you!) on the lawns of pretty little Queen's Park in the heart of Bridgetown.
Considered by many to be the fattest tree in the entire Caribbean, it takes roughly 15 adults to stretch around the full circumference of the central trunk!
A small sign offers information on the age and heritage of the mighty tree, while the surrounding gardens of the park host a pretty Bandstand and the Queen's Park art gallery.
6. The beaches
Okay, I know that this is kind of a given, but Barbados is home to some of the most majestic beaches in the world.
You don't just have to sit on the sand with a cocktail (although, that would be my plan), as there are so many amazing experiences you can do while at the beach.
Why not swim with sea turtles? Or go jet skiing? So many things to do.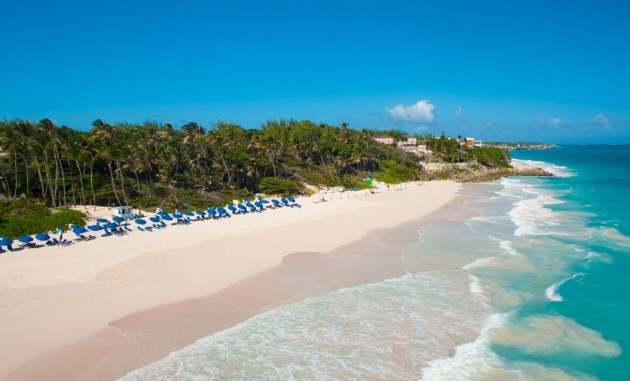 7. St. Nicholas Abbey.
St Nicholas Abbey is located in Saint Peter, Barbados, a plantation house, museum and rum distillery. Colonel Benjamin Berringer built the house in 1658.
This house is one of only three genuine Jacobean mansions in the Western Hemisphere.
Anyway, if you need me, I'll be living my best Island life.