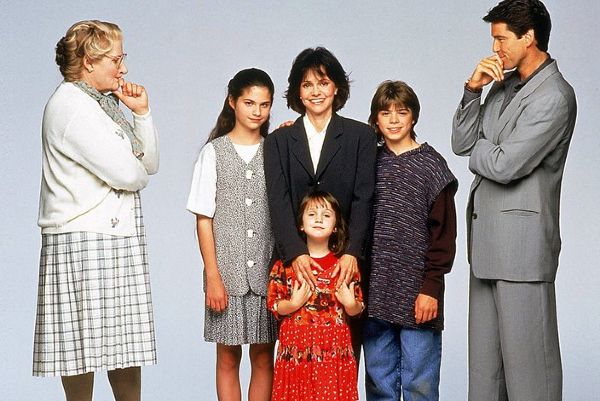 Mrs Doutbfire is one of those films you loved as a kid and are still just as attached to as an adult because it evokes such warm fuzzy feelings of nostalgia.
It's been 25 years since the movie hits our screens and with every passing year, it becomes even more of a classic.
Set in San Fran, voice actor Daniel Hilliard is going through a separation from his wife Miranda, played by Sally Field.
As Miranda gets custody of his three kids – Lydia, Chris and Natalie – he must go undercover as their nanny to spend time with them.
Cue the teary eyes.
So this just happened. #mrsdoubtfire #reunion #25yearslater pic.twitter.com/Xa8LoUVNIE

— Lisa Jakub (@Lisa_Jakub) October 24, 2018
It's a feel-good flick, if a bit of a tearjerker, and the cast have gotten together to celebrate the quarter-of-a-century anniversary of its release.
And it makes us feel old as f*ck.
The beloved main character, played brilliantly by Robin Williams, has sadly passed away and is missed dearly by the rest of the cast.
Lisa Jakub, who played eldest kid Lydia, took to social media to post a snap of herself alongside the actors who played her two siblings, Matt and Mara Wilson and their mother's love interest Stu, played by Pierce Brosnan.
She captioned the picture, ''so this happened. #mrsdoubtfire #reunion #25yearslater.''
Fans were delighted at this reunion and commented in their droves to say so.
One wrote, ''this is one of my favourite films Robin Williams will always be a legend.''
Another said, ''such a wonderful moment. Hope your reunion was just as magical!!! #mrsdoubtfire.''
Pierce has spoken before of how his first meeting with Robin went on the set of the film.
He said, ''I went into the makeup trailer and Robin was sitting there in a pair of boots and his hairy legs, and a Hawaiian shirt, and his hairy arms, and there he sat, but with Mrs. Doubtfire's head on. I never really worked with Robin Williams, to tell you the truth. I worked with Mrs. Doubtfire.''
He continued, ''he was a magnificent human being, and a beautiful person."
We've no doubt he was watching over the cast, proud of the iconic movie they made together.