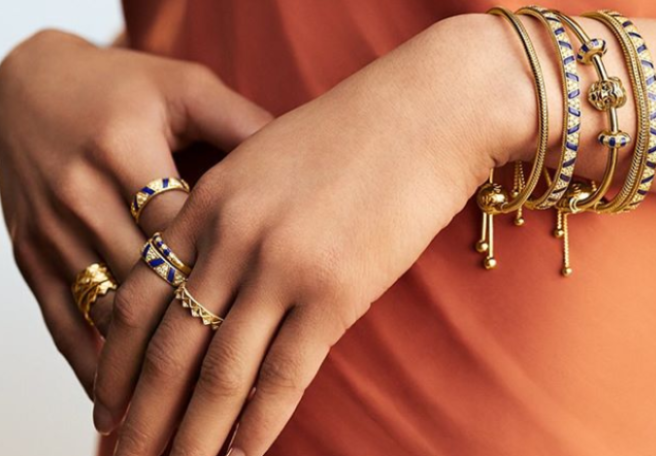 Gorgeous jewellery brand Pandora has unleashed a capsule collection of limited-edition The Lion King-themed charms to celebrate the live-action Disney reboot.
The upcoming movie is a remake of the iconic 1994 film, which hit cinemas last week to huge commercial ticket sales. The circle of style is roaring at Pride Rock right now with this bling, that's for sure.
Pandora's line embodies numerous themes of the film; bravery, strength, wisdom, friendship and empowerment, and includes a selection of stunning gold charms and bracelets.
Designed to be worn separately or layered to create a unique look, each of the scenes depicted aims to capture the spirit and special moments from the tale.
Memorable moments such as Mufasa referencing the circle of life to Simba, Rafiki's drawing of Simba and Pumba and Timon meeting the young lion cub are represented in the jewellery.
The heart-warming connection between the kings of the Pride Lands is shown in one charm with golden metal, and it's sure to be a sell-out.
Showcase your nostalgic tie to the Lion King's story, which is based on Shakespeare's Hamlet, by donning Pandora's striking charms all over you.
Pick and choose to create your own signature accessory style with your love of Disney on your wrist. In the real-life version of Pride Rock, a lioness runs the show.
You'll 100 percent feel like queen of the African savannas with these jewels draped all over you. That wild fierceness is on point.
The film stars the voicing talents of Donald Glover as Simba, Beyoncé Knowles-Carter as Nala, Billy Eichner and Seth Rogan as Timona and Pumba, James Earl Jones returning as Mufasa and Chiwetel Ejiofar as Scar.
Jon Favreau's CGI-animated take on the animation is ground-breaking cinema, so why not celebrate your favourite childhood film literally coming to life?
The Lion King is in cinemas now, and Pandora's limited-edition capsule collection is available worldwide in stores or online here. Prices start at €39, we'd be LION if we said it wasn't worth the cash.
Feature image: Instagram/@theofficialpandora