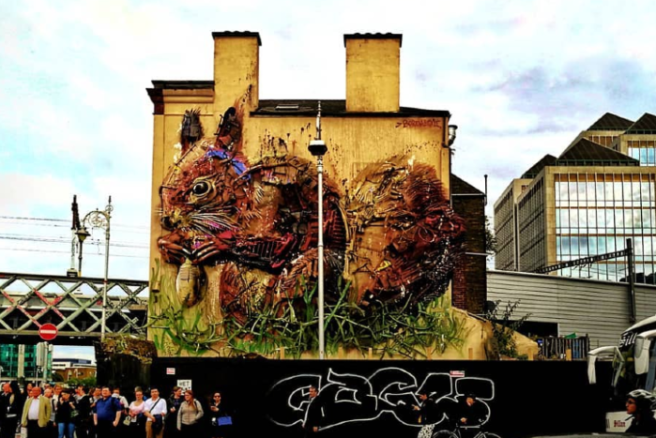 News that one of Dublin city centre's most noteworthy artworks, the beloved red squirrel mural beside Tara Street dart station, is being removed has hit the town hard.
The latest update from Lovin Dublin has our hearts sinking: the mural removal date has been officially confirmed along with the news that a new hotel will be built in its place. *Sigh*
The mural is set to be taken down on Tuesday, August 6, and is the latest in a string of Dublin creative spaces to be replaced with commercial infrastructure.
Portuguese environmental artist Artur Bordalo created the red squirrel mural, using a combination of painting and sculpture to create the beautiful 3D illusion.
The talented artist has created similar works in 24 fellow countries, which makes it even more shameful that one country is removing his masterpiece.
The work was constructed using rubbish and waste discovered around Dublin, like televisions, bicycle frames, used car parts, chicken wire and office materials.
The installation took a total of five days to make, and the creation was captured over two years by Irish filmmakers Trevor Whelan and Rua Meegan in their award-winning short, A Life of Waste.
Co-director and co-curator Trevor Whelan said at the time;
"We wanted to make this film to illustrate the character, motivations and creativity of Bordalo II and to highlight the environmental dangers of our wasteful society."
"Together with an amazing, dedicated team, we overcame many obstacles to make this documentary and to bring the artist to Dublin to create one of his iconic sculptures," Trevor added.
"We are very saddened by the news that Dublin's 'Red Squirrel' will be removed to make way for yet another hotel. The artwork has had a great impact on the city and has received a lot of love from both locals and tourists."
Feature image: Instagram/@ispottedit