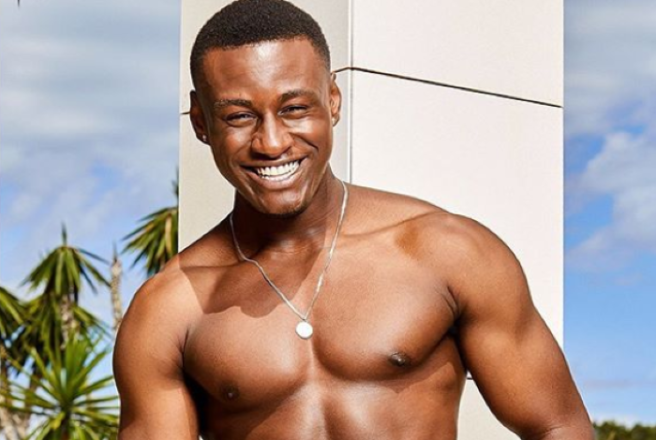 We've all been left totally in the dark about Sherif Lanre's strange Love Island exit, with conspiracy theories and faked texts coming in left, right and centre.
The 20-year-old allegedly broke the villa rules, but the exact reason has yet to be explained.
Both Sherif and ITV released statements yesterday, saying; "After breaking the villa rules, Sherif had conversations with the producers and it was mutually agreed that he would leave the Love Island villa."
this is basically how the love island producers handled the sherif situation #LoveIsland pic.twitter.com/xZ3jFd9c0T

— Love Island Reactions (@LoveIsIandUK) June 11, 2019
Sherif himself said: "In a case of poor judgement, I broke the villa rules and as a result agreed with the producers that it was best for me to leave the villa."
"I regret that I didn't conduct myself in the right way and, as a 20 year old guy, it's something I know I will take on board and learn from. I really enjoyed my time in the villa and look forward to catching up with everyone on the outside."
However, the young chef and semi-pro rugby player has now broken his Instagram silence after leaving the ITV2 show.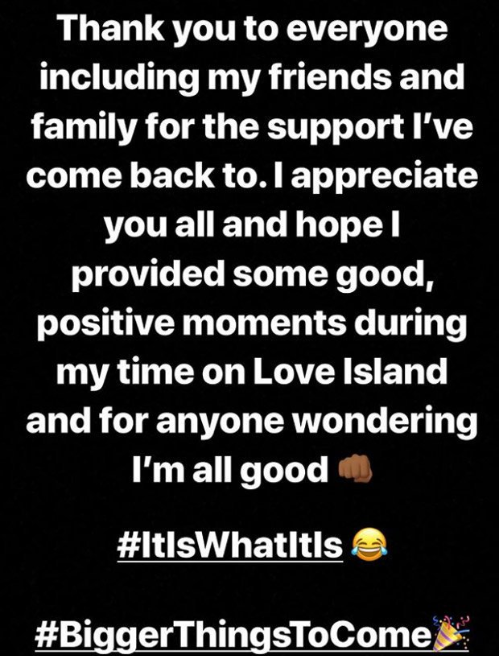 In a statement on his Instagram Story, he wrote: "Thank you to everyone including my friends and family for the support I've come back to.
"I appreciate you all and hope I provided some good positive moments during my time on Love Island and for anyone wondering I'm all good."
He also included two cheeky hashtags; "It is what it is" and "Bigger things to come". The Londoner stayed quiet on the reason behind his axeing.
Sherif leaving knowing he's gonna make a fortune off interviews #loveisland pic.twitter.com/UBb04wXWrj

— Danny Costelloe (@costelloe2323) June 11, 2019
Speculation has been off the charts as to why he was kicked off the show, and his removal was totally ignored on last night's episode. Ian Stirling, the show narrator, simply said;
"Earlier today, following conversations with the producers, Sherif left the villa. But for other Islanders, it's another day in paradise."
Many think he broke the solo sex rule in the shower, others said he was too anti-social and refused to speak to people and some said he was physically fighting with Anton.
We wonder what Anna has to say about all of this, seeing as she's now a single lady?
We're sure the real reason will be revealed sooner rather than later, most likely in a highly paid interview.
Feature image: Instagram/@sherif_lanre