Sometimes, you don't mind forking out for a great upstyle professionally done in your local salon.
On other occasions, however, you don't necessarily have the time or money to do anything other than give it a bash yourself.
Thankfully, A LOAD of amazing YouTube tutorials for killer hair-looks are available; red-carpet delights that can be adapted for Debs, wedding or college ball.
So what's the issue? Well, for one deciding on what will work and what definitely won't is something of a serious pickle. Indeed, with so much choice and so, so many online tutorials, it's difficult to even know where to start.
And even if you do want to leave things in the hands of professionals (probably advisable for a REALLY big event) you need to be able to relay to them clearly what you want to achieve.
Thankfully, the experts at Toni&Guy in Dundrum Town Centre – which recently marked its 10th anniversary – have a load of top tips for us… which means you can get red-carpet ready in no time. Hurrah
1) The most important thing to consider when deciding on a hairstyle for the big night is whether or not you will feel comfortable.
If you never wear your hair up chances are an upstyle will leave you feeling exposed and uncomfortable. Equally if you never wear it down you might spend the whole night fidgeting with it.
2) The neckline and style of your dress is really important when deciding on a style. With a high neckline hair is usually better drawn back and over the shoulder, or worn up.
A sweetheart neckline can look fabulous with hair down or up, but bear in mind if you wear an upstyle you may want to think about a neck piece or earrings as it will be a more exposed look.
3) It is always best to work with and enhance the look of your own natural hair. Hair pieces can of course be used but remember that if you want the hair to be curled the piece must be made of real hair.
Take inspiration from celebs with a similar hair length and style as your own; it will give a better indication of what will suit you and what's achievable.
4) Also remember that you want to balance out your overall look nicely. That means if your dress has a lot of detail, a simple hair style may complement it best.
Equally if you are wearing a strong or dramatic make-up look, you may want to consider a softer style for your hair.
5) This year less is definitely more: relaxed and paired-back looks are taking centre stage with soft tumbling curls and sleek ponytails taking centre stage. That's not to say that iconic glamour – which will always have its moment – is totally out.
In fact, Forties-inspired waves and beautiful chignons are still a seriously popular choice for anyone with a big event to attend.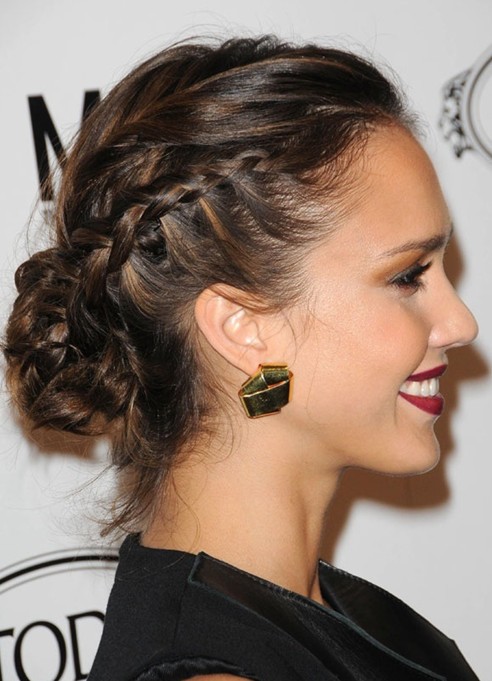 6) Finally, if you're having an upstyle, it is best to wash your hair the night before. Shampoo and condition (conditioner only ever through mid-lengths and ends) and simply blast dry or let your hair dry naturally. Don't put any product in to your hair before or after you dry it.
This means that your hair won't be super silky and will hold the style more easily. And the same prep also applies if you're wearing your hair down and you want your curls to really hold all night.
As well as on-trend hair and styling services, Toni&Guy Dundrum boasts lots of lovely added extras such as head massages and giant reclining chairs at its basins. Refreshments on offer include – hurrah! – herbal teas, red and white wine, and cold beers so you can REALLY relax.