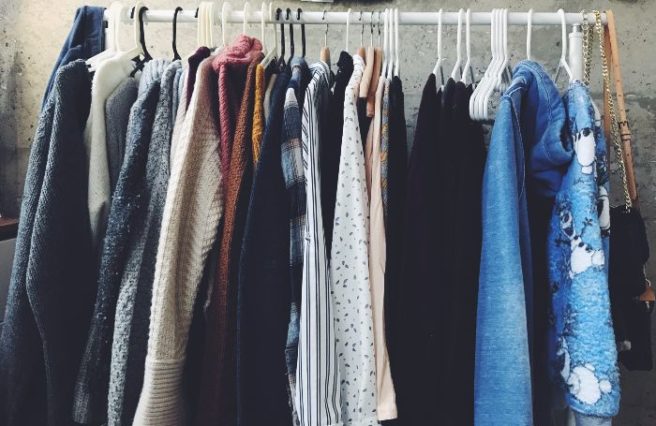 Sizing discrepancies when shopping from store to store on the high street are crazy, and we all know the feeling of having to go up or down one, two or even three clothing sizes from our 'regular' size in particular items.
Fitness an positive lifestyle Instagrammer Katy is going viral this morning thanks to her eye opening picture showcasing these sizing issues to great effect.
Katy tried on two pairs of jeans in the same store, both size 10, and the evidence of what happened is captured in the images below. One pair is too big for her, while the other is unable to pass her thighs.
And they're both the exact same size in the exact same store.
'LOL sizing is SUCH bullshit these are both a size 10 short from express in their low rise leggings. Literally the same store, cut, size, etc,' she captioned the powerful post.
'The one was a hair too big and the other didn't even go over my thighs like WHAAAT?!'
'My reason for sharing is…if you ever find yourself in a fitting room ready to burst into tears when something doesn't fit (we've all been there, myself included…millions on times…ask my mom) REMEMBER THIS PIC!'
'There are times I'm a small, times I can't even muscle into a large, times a 10 falls of my hips & times, like this, it doesn't even get past my thighs.'
'Sizing is silly…no one will know if you had to bump up or down because of the cut, style, or likely completely wrong sizing on the store's part.'
'You mean so much more than fitting into the smallest size you can.'
'Our value should never come from a number…on the scale or in out clothes.'
Katy's message is hitting home for many, and the comment section is flooded with anecdotes from people who have experienced the exact same issue with in-store sizing.
'I thought I was going nuts when I tried on clothes "my size" at one store and then had to go 2 sizes up at another store. Thank you for posting this!' said one.
'I complain about this all the time. Sometimes I'm a 4 and sometimes I'm a 12. How does that work? It's ridiculous,' said another.