MPs have voted resoundingly to extend abortion rights and same-sex marriage to Northern Ireland, after years of public activism.
The government has said it will honour the plan despite ministerial doubts, with the Commons voting 383 to 73 to pass the legendary amendment to a predominantly technical bill on the stalled Northern Ireland assembly.
Labour MP Conor McGinn tabled the bill, who is a longstanding campaigner for same-sex marriage rights in the province.
This is momentous. Thank you so much @ConorMcGinn for standing up for the LGBT community in NI. I'm shaking like a leaf and quietly confident that I'll be attending some friend's weddings in the coming years. #NowForNI #EqualMarriage

for @stellacreasy's amendment!

— Sara (@Teh_Woo) July 9, 2019
Northern Ireland is the only part of the UK where same-sex marriage is not legal. Prior to the vote, Northern Ireland minister John Penrose insisted that the government would honour the result;
"Should this pass it will go into law," he said. "It will become part of primary legislation. And so ministers will be bound by it and the government will proceed."
MPs have also voted on another amendment to the bill to extend abortion rights to Northern Ireland, tabled by the Labour MP Stella Creasy.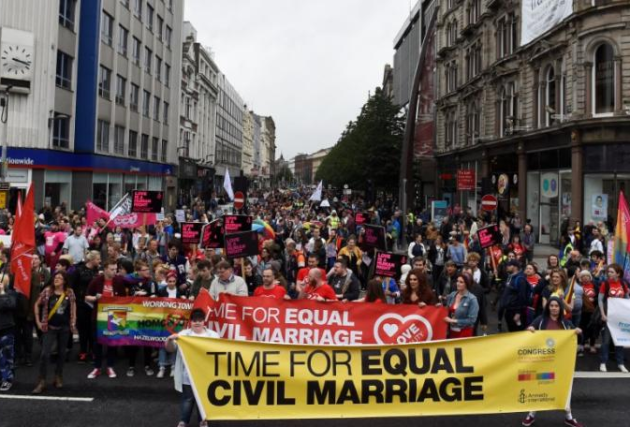 The government have said for a long time that both issues are devolved matters and shouldn't be imposed on the North by Westminster, but McGinn and Creasy emphasise that that action must be taken.
The assembly and executive have been suspended since January 2017 amid political deadlock. McGinn's amendment would theoretically lead to a change in the law within three months if Stormont remains stalled.
The region's executive can approve or repeal the measure if and when the North's executive is united in government.
McGinn told the Commons the house had "failed LGBTQ+ people in Northern Ireland before."
The MP said: "Tonight, we have the chance to do the right thing. People in Northern Ireland, and indeed across Britain and Ireland, are watching. I, for one, am not going to let them down. I hope colleagues do not let them down either."
Congratulations Northern Ireland, and thank you Conor McGinn for this incredible achievement for the LGBTQ+ community.
Feature image: © Brendan Harkin/Love Equality