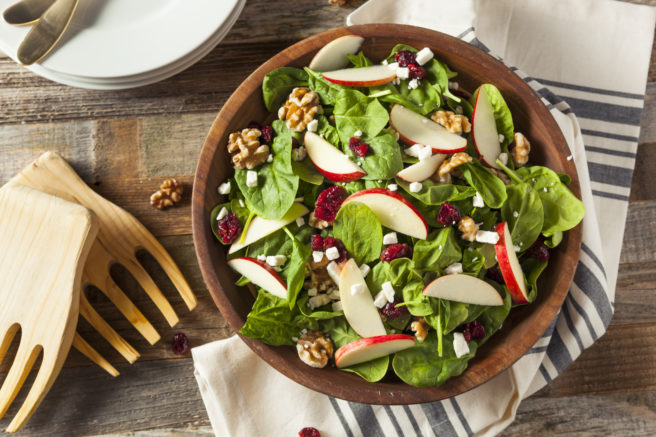 When you don't have time to cook, making a salad for dinner is one of the quickest ways to whip up something healthy in minutes.
If you think the kids might not be happy with it, our foolproof method to building a yummy salad will prove otherwise – it is tried, tested and approved!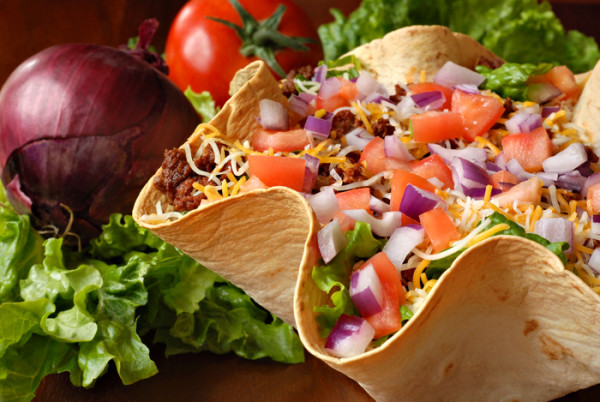 Our secret is to begin your salad by layer and to make sure you have at least one element for each of the layers:
1. A base: we recommend to start with a green base, such as spinach, lettuce, rocket, mixed leaves… For a more hearty recipe, you can also go for cooked quinoa, lentils or pasta.
2. Vegetables: cucumber, radish, peppers, carrot ribbons, red onions, roasted sweet potatoes, butternut squash… The more, the merrier: this layer is to ensure you get your five-a-day and also to give some crunch and texture to your salad.
3. Protein: leftover rotisserie chicken, boiled eggs, ham, cooked salmon, tofu, grilled haloumi, chickpeas…
4. Something soft: if you ask us, a salad needs avocado, but if you don't like it or don't have any at hand, it can also be feta, goat's cheese, cooked butternut squash, sweet potatoes or sundried tomatoes.
5. Something sweet: raisins, grapes, strawberries, goji berries, cranberries, pineapple or a drizzle of sweet chilli sauce is essential to bring your salad to the next level.
6. Something crunchy: mostly nuts and/or seeds, this layer is the cherry on the cake. We recommend flaked almonds, toasted pine nuts, pumpkin seeds, sunflower seeds, walnuts, chopped halzelnuts…
7. Fresh herbs: basil, coriander, mint, spring onions… whatever you have on your balcony or in the fridge will do but don't skip this step!
8. Optional: If you didn't already, you can also add cheese to your salad, such as feta, cheddar, gruyere, blue, goat's cheese.
Last but not least, make a nice dressing: 1 tsp mustard, 1 tbsp vinegar, 2 tbsp olive oil, salt and pepper is our favourite one but don't be afraid to play around. There are a million easy recipes on the Internet.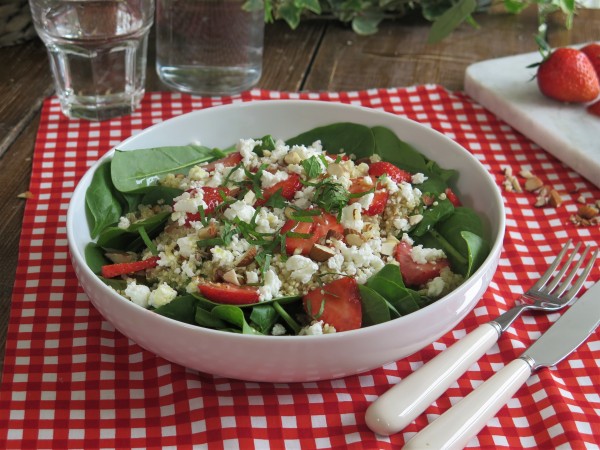 To give you some inspiration, here are some of our favourite combinations for the perfect salad:
Mediterranean
1. Mixed leaves
2. Cherry tomatoes, cucumber, red onions
3. Leftover chicken
4. Avocado, sundried tomatoes
5. Raisins
6. Pine nuts
7. Basil
Asian
1. Spinach
2. Sweet peppers, cucumber
3. Smoked or cooked salmon
4. Avocado
5. Sweet chilli sauce
6. Chopped peanuts
7. Mint, spring onions
Country
1. Mixed leaves
2. Radish
3. Eggs and crispy bacon
4. Goat's cheese
5. Cranberries
6. Walnuts
7. Mint
Gwan, give it a go!