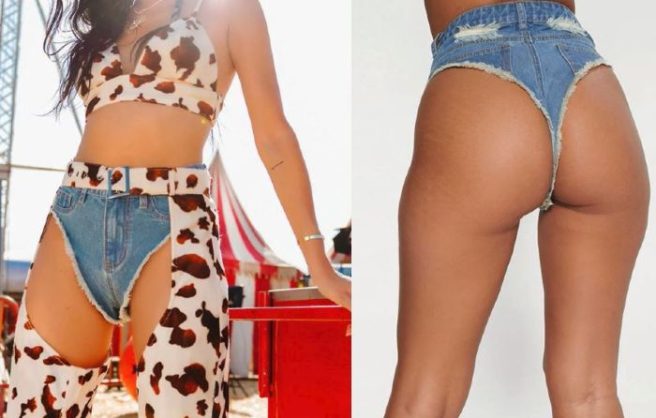 Festival fashion is always a bit out there – from glitter tits and fringe to rainbow boots and morph suits (yes, people wear them).
Anyway, while I would usually accept the style, I wouldn't be caught dead wearing the majority of it.
Party because I don't have the figure for them, but partly because I don't have the balls.
Anyway, my lack of balls could not have prepared me for one of this season's 'hottest' festival garments.
Introducing: the denim thong.
The gorge folks at PrettyLittleThing are breaking boundaries left, right and centre… and this denim thong is their cherry on top.
Listen, I totally get the merits behind this creation, and the way PLT have styled it is tres cool.
However, my mind goes straight to an important issue: how in the name of Jesus could that be comfortable?
The site description of the 'shorts' says:
"Dare to wear these fierce denim knickers girl. Featuring a denim material in a seriously flattering high rise style. Team these with some killer chap trousers and matching bralet for a show-stopping festival outfit that is gonna get you noticed for all of the right reasons."
And the most bizarre thing? THEY'RE SOLD OUT.
Although, if you could pull them off, why the hell not?
They cost 15 quid, and no doubt will be back in stock ASAP. Let us know if you get a pair.