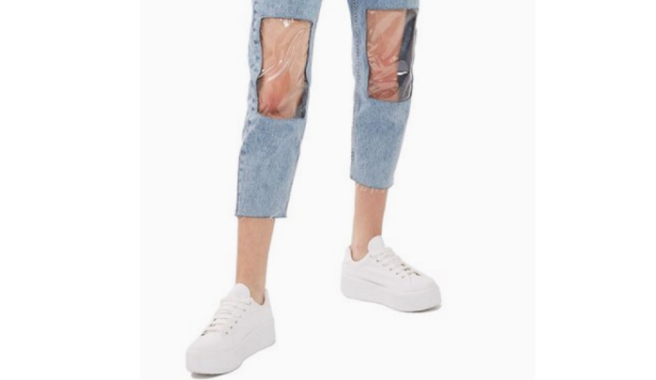 People are hilariously confused about these weird Topshop jeans
Every now and again, a fashion item comes around that divides the nation.
From fluffy sliders to Juicy Couture track suits, sometimes the weirder side of fashion can cause major debate.
Now, Topshop is getting quite a few questions about their new style of jean.
These are actual jeans you can buy at @Nordstrom that cost $95.

Called Clear Knee Mom Jeans.

We are truly living in the dark time line. pic.twitter.com/vv9flwQeXx

— ᴊᴇᴅ ᴡʜɪᴛᴀᴋᴇʀ (@Jed05) March 13, 2017
The "clear knee mom jeans" feature a clear plastic panel at the knees.
Kind of like windows to the knees, if you will.
I have a lot of questions pic.twitter.com/4KB15DfqFn

— Sara Lang (@SaraLang) March 13, 2017
Twitter is in uproar over the style, as people feel that they are just plain ridiculous.
The jeans have been dubbed "ugly" and a sign that we are "living in dark times." Slightly over-dramatic.
Priced at around €68.00, the patella ponchos are not going down well at all.
DOROTHY PARKER: What fresh hell is this?
TOPSHOP: Thank you for asking! These are our "Clear Knee Mom Jeans." pic.twitter.com/QRhmLjKirv

— Una LaMarche (@sassycurmudgeon) March 13, 2017
While the denim and perspex pair of pants is definitely on the daring side, we don't think they look that bad.
However, we do wonder what purpose these panels could actaully serve?
I guess they'd keep your jeans dry if you needed to kneel to tie your shoe lace, but other than that, it must just be one of those fashion things.
Keep seeing those clear plastic, knee mom jeans and let me tell you that is the least of Topshop's denim crimes. https://t.co/Jzy8MAerbT pic.twitter.com/ee1S2nAA8M

— Samantha Powell (@sdpowell1) March 13, 2017
Twitter users have also taken to mocking another pair of Topshop denims, which feature a mesh skirt overlay.
They're really not getting an easy time from fashion critics today, are they?