A 2010 clip of Gordon Ramsay and Sofia Vergara on the Jay Leno show has gone viral this week, purely because of how damn UNCOMFORTABLE it makes everyone feel.
Twitter users were quick to brand the infamous TV chef's behaviour as beyond inappropriate, especially in the #MeToo era where women are taking a stand against treatment such as this.
The interview shows Ramsay, then 52, appearing alongside the Colombian actress in an interview, where he clearly makes her feel incredibly objectified and upset with his sexist remarks and groping.
Sofia Vergara didn't deserve to be treated like this. This is very very uncomfortable. pic.twitter.com/5xgxLLFZ8R

— Jason Bolaños (@JBinAV) January 6, 2019
His comments during the clip aimed at the actress have not been received well, at one stage Vergara is talking to Leno and remarks; "I never scream like that in real life."
She was presumably referring to the renowned shouts of her Modern Family character, but Ramsay is quick to respond with;"Only in the bedroom."
Let's remember, this is part of Vergara's JOB. In an employment environment, he repeatedly interrupts her and makes her feel sexualised when she is trying to do her actual job.
She straight up yelled "this guy does not respect me!" In Spanish. Her body language is more than indicative of her uncomfortableness towards his presence.

— Chi (@Anomaleeh) January 6, 2019
He even moves chairs to essentially sit on Vergara without her permission, and he touches her upper thigh and tries to smack her. She tells him; "No, no. No touching!"
She begins speaking in Spanish at the audience, telling them "This man doesn't respect me." Understandably, she is uncomfortable and angry, and Leno did absolutely nothing to intervene.
He asks the actress and model; "Have you had a whole wedge in your mouth at any one time?" She cannot even reply as she is too stunned.
"Sofia Vergara didn't deserve to be treated like this," one Twitter user wrote, retweeting the footage. "This is very very uncomfortable." Of course, people are MAD as hell, deservedly so.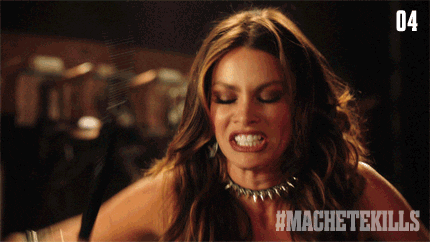 Jay Leno is equally chauvinistic, asking her how much WEIGHT she gained while away on a trip, which she refuses to answer.
She is sexualised throughout the entire interview, while at work essentially, and is subjected to sexist and racist harassment.
Gordon Ramsay even tells her to change her son Manolo's name,to which she replies stone-faced "Can I what?"
The whole thing is a damn joke. Gordon, you're cancelled. Jay Leno, you're cancelled. Everyone go and smash the patriarchy and lift up Sofia.