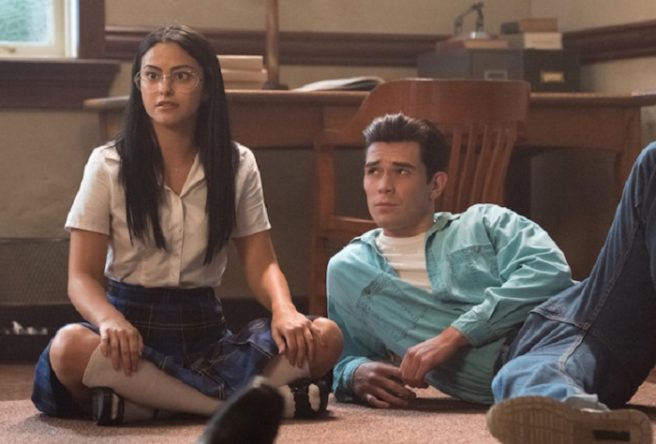 Season three of Riverdale is in full swing and we have to admit it is not what we expected. The teen series has taken a dramatic turn by introducing quite the spooky storyline.
The Gargoyle King has made his way to Riverdale and his arrival has certainly creeped us out.
Archie is in prison, Betty and Jughead are investigating the deaths of their classmates and Veronica is arguing with her dad (again) so we must admit we're very ready for the upcoming throwback episode.
We're going back in time to the days when FP, Alice, Fred and co. were the cool kids in town. The Breakfast Club-inspired episode will see the main cast play their parents during their high school days and we can't wait.
One of the stars of The Breakfast Club Anthony Michael Hall will also star in the upcoming episode.
"Obviously, Riverdale's a much darker version of that. We're going to learn about a really, really dark secret in Riverdale that the parents have been keeping since they were in high school," teased Aguirre-Sacasa at the TV Critics Association panel.
I seriously can't wait for this episode!! #Riverdale pic.twitter.com/1CmWnU7iRh

— ArinezRo (@IM5sosMusic) October 25, 2018
Fans will find out more about the Riverdale parents link to the haunting Griffins & Gargoyles game that has already claimed the lives of two Riverdale High students.
We cannot wait to see the cast transform into their on-screen parents for this special throwback episode.
PHOTOS: #Riverdale 3.04 – "The Midnight Club"! @CW_Riverdale #thecw
GALLERY: https://t.co/AIvxbG6t2I pic.twitter.com/HEyQUQdFt5

— SuperheroTV (@SuperheroTVcom) October 26, 2018
The Midnight Club episode airs on Netflix on November 1.
Watch the full trailer below:
Feature Image: The CW