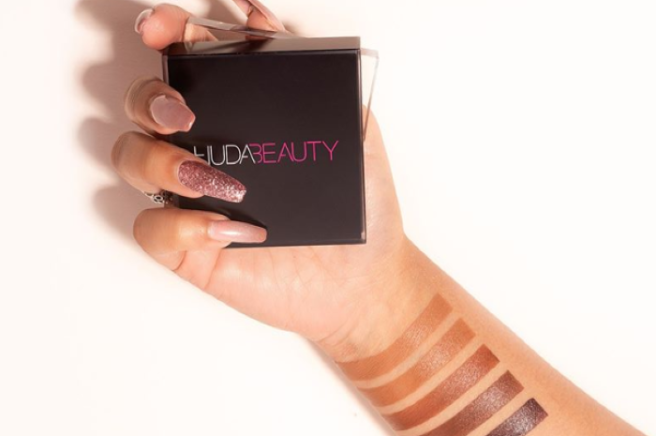 If only there was a way to bronze and contour your face at the same time, simultaneously. What genius could come up with the perfect beauty solution to a MUA dilemma? Huda Beauty, that's who.
The beauty mogul is excited to announce the introduction of Tantour; a luxurious, cream-to-powder contour and bronzer specially made to help you sculpt your stunning features.
If you're seeking for the perfect product to kickstart your summer, Tantour is the answer to all of our chiselled prayers. Their recent launch of N.Y.M.P.H– Huda Beauty's brand-new, liquid body highlighter, was only the beginning.
Huda Kattan took to Instagram to announce the news and demonstrate her glorious bronzing product, writing;
"Hi beauties. I'm so excited to share our next product launch with you Tantour, an-all in-one contour and bronzer."
Kattan included some added details on the formula, explaining how blendable, workout proof, sweatproof and water-resistant it is.
"Contouring is dead; it's all about Tantouring," Kattan elaborates. Use the wonder product to sculpt and define your face, for a beautifully contoured effect.
Tantour comes in five luscious shades, fair, light, medium, tan and rich. From neutral honey, soft caramel and mocha to deep cocoa skin, you won't be missing out.
When you take a dip in the pool or swim in the sea abroad, or even just when you're sweating in the summer heat or after an evening workout, Tantour won't budge.
The collection dropped online yesterday on www.hudabeauty.com, and each shade sells for €30 each.
You can also grab the sculpt and shade brush for €26 to complete your beauty haul. It's designed to work best with the creamy formula.
It's time to glow up gals, and Tantour is the perfect way to do it. Combine the balance of shadow and warmth for luminous, matte glamour.
Feature image: Instagram/@feelunique