Feverous Black Friday shoppers are HELLA p*ssed off as they are being forced to wait HOURS in online store queues.
Customers are being forced into virtual lines on store websites, yet retailers are claiming this was all properly planned… eh, what?
One man shared a screenshot on Twitter of his queue number: 107578th in line. Good God, people, this is utter madness.
The Black Friday Queue on Game's website pic.twitter.com/5r75RkMF3D

— Yubaba's Baby (@Technikyle) November 22, 2018
It's fair to say that the eager online population are sufficiently angry, with complaints coming in left, right and centre for numerous brands, such as Debenhams.
A Debenhams spokesperson claimed that the system was "managed" and that customers have all been successful with their shopping experiences:
"Some customers experienced a short delay in accessing our website at peak hours last night."
"By implementing a managed 'queue system' we were able to ensure that once customers had accessed our site, they were all able shop the offers successfully."
I can't believe I have to queue online. #BlackFriday #Debenhams pic.twitter.com/prScLD13kY

— Summar (@Yifrenia) November 22, 2018
Reports of thousands of websites crashing are also gaining traction on Twitter, it seems that online stores were hugely unprepared for the onslaught of consumerism which Black Friday brings:
Oof, Game's black Friday deals just went live and the site crashed

— TheBeanBandit (@TheBeanBandit16) November 23, 2017
Sky News were told by Game:
"Due to the volume of traffic to our site we are operating a queuing system to make it as fair as possible to our customers in getting the deals they want."
However, stores this morning on the high street were experiencing regular volumes of customers, with no queues in sight. It seems online shopping has officially taken over:
Remember gals, Black Friday is a massive marketing campaign, so try to resist the mania surrounding it.
Use deals websites to spot the best discounts, ask yourself if you really need the items and don't assume that just because it's on sale, it's a bargain.
Economically and environmentally conscious shopping needs to be a priority with the massive amounts of clothes going to waste.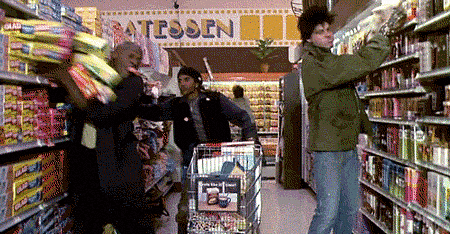 Stay strong gals, resist the urge.
If you can't resist, we hope you get through the online queue hysteria at least.