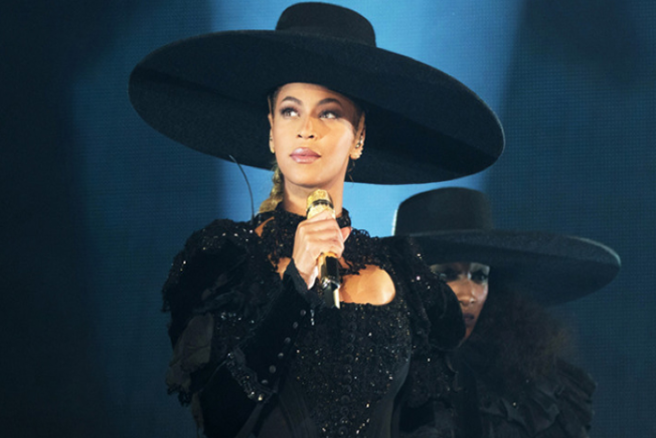 A photograph taken of our Lord and Saviour Queen Bey and arguably the world's current most popular singer-songwriter has sparked a MAJOR debate online about gender and an artists' 'brand'.
Why? Well, mainly because Ed was dressed like he was popping down to the local Spar to grab a one litre carton of milk, while Beyoncé was dressed, I mean, like BEYONCÉ. Fierce, fiesty and fabulous.
A few Twitter users have claimed that this displays an attitude towards gender norms, showing the expectations which women have on their shoulders to look stunning 24 hours a day, while men can wear whatever they damn well please.
Ed Sheeran is a 27 year old man the fact we've enabled him to feel it's ok to dress like this at all, let alone next to Beyoncé really boils my piss pic.twitter.com/Q6XqgTFuvQ

— shon faye. (@shonfaye) December 4, 2018
The two global superstars performed together in Johannesburg, South Africa last weekend to celebrate the Global Citizen Festival: Mandela 100.
The duo paid homage to the late Nelson Mandela, who Beyoncé claims has hugely impacted on her parenting principles with her three children; Blue Ivy, Rumi and Sir.
Of course, the pair simply had to perform the gift of their huge worldwide hit, Perfect, which the crowd essentially sang louder than them. Yet their choice of clothing has grabbed nearly the entirety of the focus.
.@Beyonce and @EdSheeran deliver a sultry performance of "Perfect Duet" at the Global Citizen Festival: Mandela 100.pic.twitter.com/2dH0tQjndn

— Pop Crave (@PopCraveNet) December 2, 2018
Beyoncé has always worn the most EXTRA outfits in the business because it's part of her essence, her brand and her overall look.
She is a massive lover of fashion, even designing her own lines, while Sheeran has always been open about stripping back everything so that only his musical talent is on display.
Singer-songwriters always perform with the hope that their stories within the songs are what is focused on, whereas Beyoncé is a performer.
She uses choreography, graphics, lighting, backing vocals, political statements, her own music AND fashion to make her statements.
Lest we forget, her iconic Coachella performance was famed for the fashion choice as well as it's artistic mastery. Her On the Run tour outfits have changed the GAME of musical attire, her Formation hats especially grabbing the attention.
They exacerbate her talent, but we all know that if we strip Queen Bey of her dress choice, her choreography and her light show and graphic background, she would still deliver an incredible performance.
Yet numerous Twitter users argue that male artists can stand on their talent alone, whereas women must always have a more-than-presentable appearance, they must always have something else for their audience.
I get this.
Even tho I appreciate good musicians in normal clothes the double standard is ridiculous… what is expected of female vs male artists. https://t.co/xLEcNXVuX7

— Fat in Public (@garlicmeg) December 4, 2018
Ed Sheeran could wear a pin-striped suit if he so desired, but this would not run parallel with the branding behind his music. His image is the fact that he has no image; it's all about his own chill, laid-back vibe.
He has gained notoriety especially in the States for his appearance, or seeming lack of effort, yet this normal attitude towards fame is what allowed him to stand out in the first place.
He wasn't trying to get attention, he simply became a phenomenon for his musical gift alone. He was relatable, a man of simple taste with a great voice and immense penchant for songwriting. Artists should be able to decide their own looks and style, without their labels, the media or even their fans interfering.
Other humorous online statements are simply trying to dispel all the tension…
Hey everyone, not to worry I fixed it. You can sleep easy #EdSheeran #Beyonce pic.twitter.com/m5Qi2VWxFp

— Dave Hannan (@DrSausageThumb) December 4, 2018
Do their outfits say more than we think?
Plenty of female singer-songwriters wear less elaborate, glamorous clothing, such as our new best friend Sigrid, who noticeably wears zero make-up onstage and sports only a plain white t-shirt and jeans.
Perhaps it would be best if we simply allowed artists, not to mention the general society at large, to wear whatever they please without having to worry about the incessant judgement of fans and random Twitter users.
Just a thought?