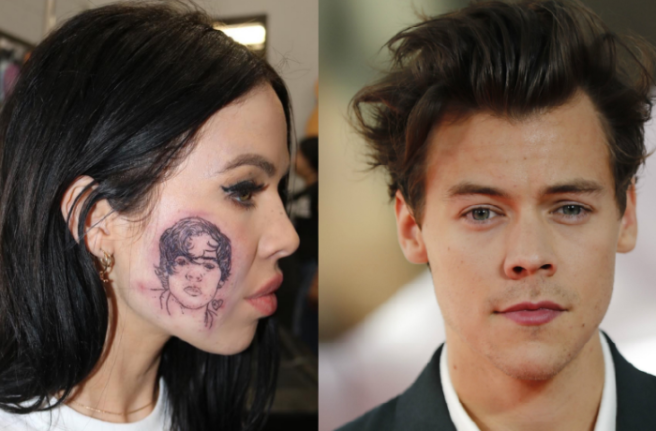 Have we all seen THAT insane Harry Styles face tattoo? The one that made everyone gasp out loud and question her sanity and life choices?
Singer Kelsy Karter got the attention she was looking for, but not from Harry himself though. Twitter users were quick to point out that the ink actually resembled Frankie Cocozza far more, but still.
As many of us have guessed, it has now been revealed that the tattoo was all a hoax in order for Kelsy to promote her new single, Harry. Yes, she's that dedicated to promotion.
She's admitted the hoax was all for the sake of Harry Styles noticing her new song about him, and she has dropped a video explaining the whole fraud.
She said she wanted to get the inking to 'cut through the noise' and get her music noticed by top music execs, and the general public. Oh, and it's dropped on Harry's 25th birthday.
The New Zealand-born singer elaborated, saying she dedicated the song to the Kiwi artist after going through a rough patch last April;
"My dog Diva died. My relationship ended. And the last thing I wanted to do was write another sad song about it."
Kelsy directed and produced the video for the One Direction hero for only $300, but didn't have the cash to promote the song;
"But how were we going to cut through the noise to get noticed? What would the rock legends that inspired me have done in 2019?" Celebrity tattooist Romeo Lacoste was enlisted for the sake of the tattoo, which was based on Harry's Rolling Stones cover.
The 25-year-old said Romeo traced the image and applied it to her face, and then used a special FX makeup artist.
She added; "'BTW we know it looked ridiculous. That was the point.I had your attention." We were thinking that Romeo's talented skills needed to be brushed up…
Of course, the absurd inking went totally viral. Websites and news sites globally covered the tatt, and everyone was talking about it. TMZ wanted to chat to her, and she even considered reapplying the tattoo.
Because it's Harry's special birthday, Kelsy has made the choice to confess her fib.
"This has always been about rock 'n' roll. Harry is an anthem for the fans. The tattoo is gone. All that's left is the music. Which is what my rockstar team and I had planned all along."
We have to respect her commitment, and the plan is pretty ingenious. The song is also a complete TUNE. We'd love to hear a comment from Harry on the matter though…