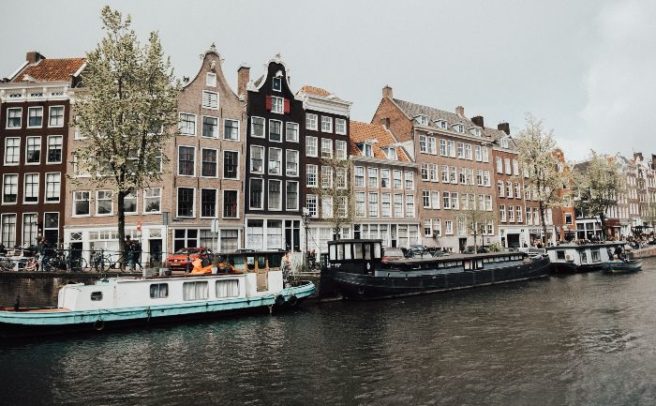 Amsterdam is famous for a few tourist essentials – visiting a coffee shop, strolling though the red light district and cycling through the city.
However, there are few other experiences that are not to be missed in the architecturally stunning and liberating city:
5. Soak up some culture at the Moco Museum
There are plenty of immersive cultural experiences to be had in the Dam, from visiting Anne Frank's annex to swanning around the Van Gogh museum being impressed by the post-impressionism.
The Moco Museum is another of Amsterdam's fine art houses, focusing on modern art rather than classic.
Currently, the museum is hosting a vast range of work by Banksy, a crowd pleaser for a group visiting the city comprised of art enthusiasts and novices.
4. Swing from the rooftops at the A'Dam Lookout
Ideal for the thrill seekers, Amsterdam is home to Europe's highest swing.
The swing is located on the observation deck of the A'dam Lookout tower, with an unbeatable panoramic view of the city.
Make sure you tie your shoelaces tight and zip up your pockets, the swing really does propel you over the edge of the rooftop.
3. G's Brunch Boat for cocktails and eggs benny
Can't stop, won't stop when it comes to brunch? Never fear.
A trip abroad doesn't have to interfere with your brunch schedule.
G's Brunch Boat is an epic way to see the canals of Amsterdam, while enjoying a hearty brunch, a few cocktails, and some seriously eclectic decor (think Drake-emblazoned menus and Roy Lichtenstein table tops)
2. Learn some Red Light Secrets at The Museum of Prostitution
Red Light Secrets offers a unique experience for tourists – feeling what it's like to be a prostitute in the red light district.
Perch yourself on a stool in from of the museums red bulb-lined window and experience what it's like to be viewed by the public while discovering the history of prostitution throughout the world and in Amsterdam.
While it is a tourist attraction, if you go early in the day you should beat the queue.
If you're into the macabre, the museum will definitely be of interest.
As well as sharing funny, intimate stories of the district's ladies of the night, the museum also remembers the women who are murdered during their working hours.
It also describes stories of trafficking and abuse from pimps – not for the faint of heart.
1. Get your drinks and some history in on a Damrak Gin Cruise
We had to sneak gin in somewhere on this list!
The Friendship Canal Cruise offers a one-hour tour of the Amsterdam canals, as well as an epic history lesson using local knowledge, historic facts, and urban legends.
Damrak is a distinctive gin from Amsterdam, served with fresh zesty oranges to sip on while you cruise.