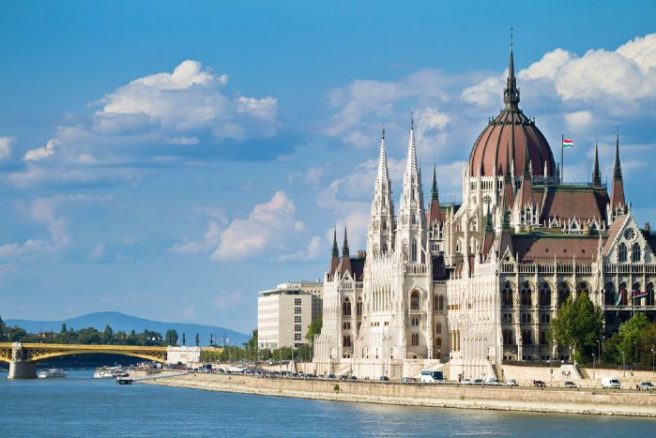 Here's 6 hidden gems to check out the next time you're in Budapest
Budapest is undoubtedly one of Europe's most beautiful cities, so it's easy to see why so many of us flock there for our weekend breaks and relaxing getaways.
Spend the afternoon unwinding in one of the city's famous thermal spas before strolling across the Danube and taking in some of the most beautiful architecture the continent has to offer.
To help make the most of your trip, we've rounded up the top six hidden gems you need to check our during your next trip to the Hungarian capital.
1. Napfényes Restaurant and Pastry Shop
One of the best vegan restaurants in the Hungarian capital, Napfényes prides itself on on preparing its menu using only vegetable ingredients.
The welcoming atmosphere makes it the perfect spot to grab a bite after a morning of sight-seeing.
Just LOOK at that pizza!
2. Flipper Muzeum
If you fancy yourself a bit of a Pinball Wizard, this one's for you.
Located in a basement under a downtown residential building in Budapest lies a museum dedicated solely to the classic arcade game.
As well as entrance to the museum, a ticket allows visitors to play the machines as much as they'd like for an entire day.
3. The Zugliget Chairlift
Let's face it, exploring a city on foot can be a pretty exhausting endeavour, so why not take the weight off your feet and explore the Buda Hills by a fun alternative mode of transport?
The Zugliget Chairlift will transport you up the side of János Hill in about 15 mins, allowing you to soak in some of the best views the city has to offer.
4. Gelarto Rosa
An absolute must-visit for anyone lovers of unique flavours and Insta-worthy desserts.
Located in the heart of the city, Gelarto Rosa is famous for it's delectable ice-cream, lovingly arranged in the shape of a rose.
Customers can choose up to three flavours from the parlours extensive menu, including some more unusual option such as lavender white chocolate, basil lemongrass and white fruit whiskey.
5. Gellért Baths
Often dubbed the 'City of Spas', Budapest has more thermal water springs than any other capital in the world.
It's health and wellness properties are the reason thousands of tourists travel there every year, but with 15 public baths dotted across the city, it can be hard to decide upon the best place to dip your feet.
The stunning Gellért Bath offer high quality relaxation in the surrounding of an elegant Art Nouveau building.
Famous for its architecture, its landscape, and also for its spa treatments, and pampering massage therapies, it's the ideal location for anyone looking to de-stress without having to feel crowded by other tourists.
6. Kuplung
Popular among locals and tourists alike, Kuplung is just of of the ruin bars that can be found across the capital.
Decorated with funky lighting, upcycled material and artistic murals, Kuplung is the perfect spot for anyone looking for chiled vibes and cheap drinks.