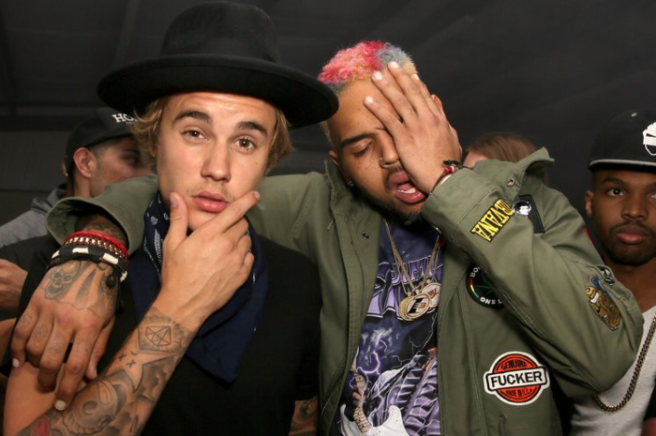 Despite the recent rape allegations made against Chris Brown, and his extensive (and proven) history of domestic abuse, gun possession and violence, Justin Bieber has thrown his support behind the rapper.
Brown was arrested in Paris this week on suspicion of rape, but was later released. A French woman alleges that the 29-year-old sexually assaulted her, as well as his bodyguard, after meeting in a nightclub.
Needless to say, the Biebs' fans are P*SSED.
The Loyal singer was released without charge around 10pm on Tuesday, and shared a video of himself at dance rehearsals, which garnered a comment from the Sorry singer that has infuriated music fans.
The 24-year-old newly married star wrote; " No one can touch you ur the GOAT," underneath Brown's video.
Brown called his accuser a b*tch on Instagram, posting an aggressive denial of the charges., and his lawyer has claimed that the singer will be suing her for defamation.
Chris Brown Released From Jail With No Charges, Denies Rape Allegations: "This Bitch Lyin!" pic.twitter.com/hgvWGbnECF

— Morris Griffin (@morrisgriffin_) January 23, 2019
French police are still investigating the event, and the accusers name is unknown at this time.
The woman told police that she met Brown on January 15 at a Parisian club, and he invited her and multiple other women to his hotel. Apparently, later in the evening, she found herself alone in a room with Brown and his bodyguard, and she claimed they both raped her.
Bieber is a longtime friend of the singer, frequently collaborating with him on music despite Brown's arrest for domestic violence against singer Rihanna.