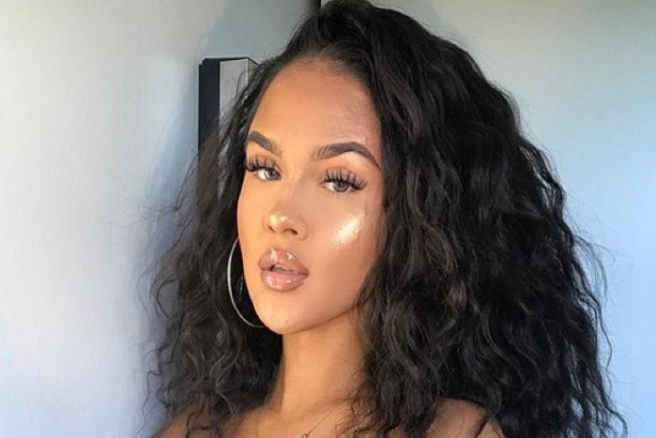 'Blackfishing' is the bizarre beauty trend that has the internet exploding, and we want to know your feelings on the matter.
In case anyone is confused about the meaning behind the term, 'blackfishing' is relatively new phrase describing people who pretend to have a different ethnicity online, specifically non-Caucasian.
It ahs become increasingly common amongst young white women on Instagram who use certain filters and language to pose as black or Asian, whether for attention or to capitalise, but other internet users deny that there is any racist intentions behind it.
We are SHOOK at this new information; some users online seemingly even use dark filters, are deliberately ambiguous about their face, wear make-up much darker than their natural complexion and use false or altered hair to appear flawlessly black or Asian.
A young woman named Odinaka even created a Twitter account (which was later suspended) dedicated to outing any reported cases of evident 'blackfishing' from white women.
"I created the account because I thought that there was really an alarming amount of white women posing as black women," she told The Cut.
"It's very annoying to see people who aren't black get praised…but yet actual black people get called things like hoodrat, ghetto and ratchet," Odinaka said.
"They're gaining success by appearing to look like me while I work ten times as hard to get where I really want to be. It's unfair."
These white girls are out here claiming to be Native, editing themselves to look Asian, and doing blackface.

I want to vomit.

— #DearNonNatives (@dearnonnatives) November 8, 2018
Writer Wanna Thompson spoke to Buzzfeed regarding the alarming trend of 'blackfishing', where she claimed that more responsibility needs to be undertaken when it comes to ethnic transparency:
"It's clear that a lot of black women are being overlooked for these white women, so that narrative needs to change"
Speaking about the latest infamous incident involving model Emma Hallberg, she said:
"Nobody is saying you can't get a tan or modify your appearance but she was intentionally ignoring the comments from black women specifically who genuinely wanted an honest dialogue…Her resistance to own up to her 'blackfishing' makes me wonder if she truly cares about black voices at all."
Swedish Instagram model Hallberg is the latest influencer who has landed in MAJOR trouble after being called out for potential cultural appropriation.
Social media users are now claiming that the 19-year-old influencer has been "pretending to be black" online, but she is adamantly denying these accusations.
According to Hallberg, everyone in her family has naturally curly hair and tan easily, and she has never fully clarified her race on her account. However, this explanation didn't stop the torrent of hate which was heading her way.
Same girl. Absolutely wild.#blackface #nasty #disgrace pic.twitter.com/2HXdBxERln

— dove vernands (@DVernands) November 9, 2018
Emma is frequently seen sporting a heavily tanned skin complexion and has even appeared on Instagram pages promoting black models, therefore many social media users assumed she was mixed race.
Understandably, the internet nearly lost it's mind, and a storm of angry responses erupted as more alleged examples of 'blackfishing' were noted.
Some people deny the trend altogether, believing that models simply use methods of tanning as part of their personal beauty regime:
if yall think ariana grande wearing a bit of fake tan is classed as blackface you would have a fucking field day coming to northern britain

— Emily (@novadjh) November 10, 2018
However, many people online commented on the double standards which are present, emphasising that black women are often criticised for being unprofessional or unkempt for their braided or 'untameable' hair.
Some have even sent home from school for their appearance, yet some (apparently Caucasian) influencers are complimented on their aesthetic.
Let's start with this scathing find. This is so insane. https://t.co/31k9uzbg39

— Wanna (@WannasWorld) November 7, 2018
Many of the accused responded with statements reiterating that they were never trying to appear as another race in the first place, the usual responses were regarding make-up preferences, tanning and hair types such as cornrows and perms.
Supposed Asian 'blackfishers' have also been revealed online, with people changing the shape of their face to appear as another ethnicity:
There is much division surrounding the intentions behind these social media influencers; some deny that celebrities such as Kim Kardashian mean any harm when they adopt typically 'black' styles such as braids or dreadlocks.
The prominent issue is that Caucasian people who adopt these racial beauty styles are possibly capitalising on them, while still having white privilege.
Others defend those online for their beauty habits, stating that they have never been pretending to change skin tone, only adopting new trends or even just complimenting other cultures.
Whether you believe that the contentious trend is authentic or not, this strange controversy is causing an absolute frenzy on social media.
What do you think, are these influencers crossing a line or innocently embracing other styles of beauty?
Jesus take the wheel, this is too much.
Feature image: Instagram/@eemmahallberg