A spokesman for German Chancellor, Angela Merkel, has confirmed that there have been numerous fatalities following a collision on the A9 motorway near the town of Bayreuth in Bavaria early this morning.
Speaking in the aftermath of the incident, Steffen Seibert said: "Unfortunately, numerous people… lost their lives in this burning bus."
It has been established that 46 passengers and two bus drivers were travelling on a coach when it collided with a lorry at around 7am local time.
According to media reports in Germany, as the lorry was carrying beds and pillows, it instantly burst into flames.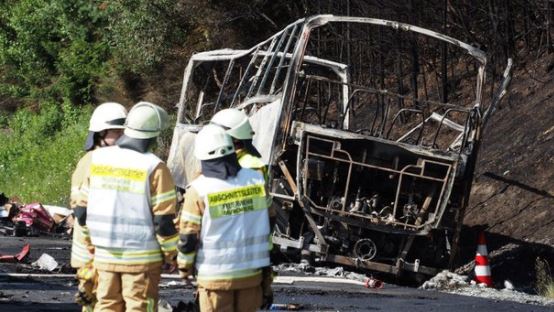 As it stands, 18 people are currently unaccounted for while a further 30 have suffered serious injury, with police spokesman Juergen Stadter asserting: "We are realistic and will have several dead to report at the end of the day."
The coach was bound for Lake Garda in Italy when the collision occurred.
Commenting on the incident, Steffen Seibert said: "Our thoughts go to the victims and their family members, as well as to the injured. We hope that those who have been rescued will recover from their injuries."
Forensic experts, in addition to emergency services, are at the scene.