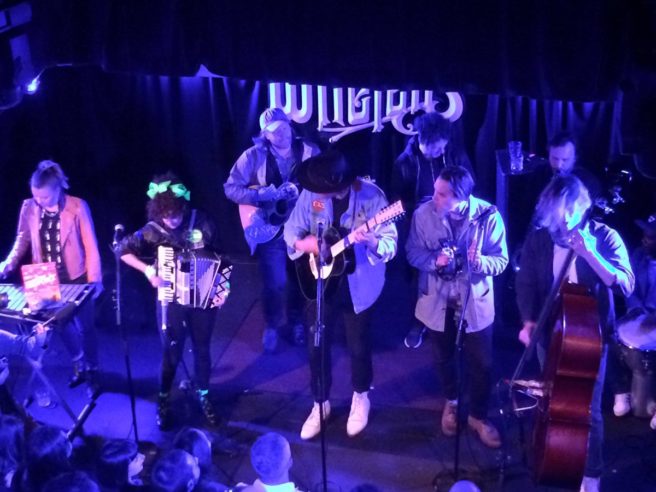 So, just a few short hours after playing a headline set at Malahide Castel last , Arcade Fire performed a secret gig in Whelan's.
Shortly after the gig finished, Win Butler, the band's lead vocalist, took to Twitter to inform fans of a "Dance party at Whelan's."
Thank you Dublin. Dance party at whelan's @whelanslive

— win butler (@DJWindows98) June 14, 2017
As the Canadian alt-rockers took to the stage, the Dublin venue was flooded with fans looking to take their place in the small crowd.
Those who were lucky enough to get a spot in the audience were treated to a short acoustic set before Win took his place behind the DJ decks for an after party.
Photos and videos of the impromptu gig have been popping up all over Twitter, leaving many fans disappointed they missed the change to see the band in such an intimate setting.
And honestly, we don't blame them. It looked absolutely amazing.
Hello world, live from @arcadefire/@EverythingNowCo after party in @whelanslive #dublin pic.twitter.com/kmC3ppQCPs

— Mathieu Moody (@mathieu_moody) June 14, 2017
I sorry for doubting you Whelan's bouncer – Arcade Fire are actually here! pic.twitter.com/6B7CcEb7dc

— Kevin Clarke (@kevjclarke) June 14, 2017
Aaaaand cue the disappointment…
Let's all pretend Arcade Fire aren't doing a secret set in Whelans while I'm chilling in O' Connell street eating cereal pls lol

— Aoife (@AoifeIBurke) June 15, 2017
Arcade fire are playing in fucking whelans tonight and I missed it. Hate myself goodnight.

— sarah tonin (@_Banhanna) June 15, 2017
Arcade fire were amazing at malahide castle! Raging I couldn't get into whelans afterwards

— Stephen Kavanagh (@bigbeard88) June 15, 2017
And finally, shoutout to the real winner of the night…
Arcade fire in malahide and whelans? Lovely. In a taxi with a Charlie's? Amazing!

— TunEd Smith (@edsongsofpraise) June 15, 2017
Feature Image: Twitter