If you're getting your glam on tonight or planned some Christmas shopping tomorrow – get ready for some BAD weather.
Brollies at the ready as it will bucket down from midnight tonight.
Met Éireann has issued two status yellow weather warnings for the country – so brace yourself for the rain and the wind.
Warnings issued for Rain and Wind
Status: Yellow
Location: Nationwide
Valid: All day Saturdayhttps://t.co/ozrQHtoOkt pic.twitter.com/Hv0tmbReyZ

— Met Éireann (@MetEireann) December 14, 2018
Met Éireann has advised Crimbo shoppers and rugby heads on route to the Aviva tomorrow for the Leinster match, to keep an eye on weather updates.
Forget the heels and grab the wellies as 30 to 55mm of heavy rain is set to fall and mountainous areas are predicted to exceed these limits.
Hit the hat trend as the wind is coming for perfectly styled hair, with speeds of 55 to 60 km/h forecasted, with the strongest gusts hitting the east of the country.
The wind will then take it up a notch with severe gusts of 90 to 110 km/h predicted for later in the day – if it isn't too late to cancel your plans, use any lame excuse to stay indoors.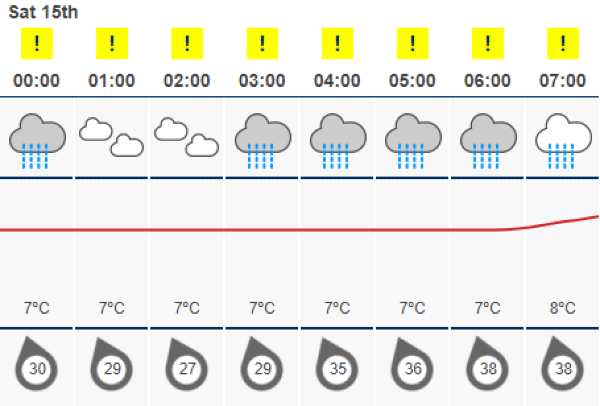 Additionally, you need to watch out for spot flooding on Saturday.
If you want us, we will be curled up all day with Netflix, snacks and online shopping.
You couldn't pay us to go out in those type of conditions.
We will see you all on Sunday when the terrible weather finally eases.