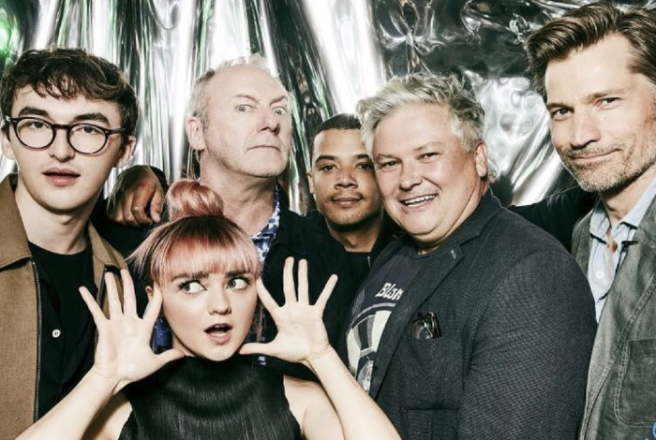 Well, we most likely still aren't quite over season eight of Game of Thrones.
For the most part, the writing was beyond ridiculous, and fans were so frustrated that some of them even began a petition to remake the final season.
Some of the cast-members showed up to a panel at the San Diego Comic-Con yesterday, and addressed the furious fan reaction to the series finale, which…bombed.
It's only been two months since the HBO hit show ended, but the wounds haven't quite healed yet, it would seem. We're trying to desperately forget that the season ever even happened.
The cast got back together on Friday to talk all things GOT, and referenced the Change.org petition to 'Remake Game of Thrones Season eight with competent writers' that got 1.6 million signatures.
Nikolaj Coster–Waldau (Jaime Lannister), Maisie Williams (Arya Stark), Isaac Hempstead Wright (Bran Stark), John Bradley (Samwell Tarly), Jacob Anderson (Grey Worm), Conleth Hill (Varys), and Liam Cunningham (Ser Davos) showed up to the panel.
They got candid about the hugely negative reaction to the final season, with Nikolaj mainly addressing the "level of absurdity of the online petition";
"Every season, we had huge controversies. From Ned Stark being killed, 'I'm never going to watch that piece of shit show again!' And then there was the Red Wedding. And obviously, the end," he continued.
"I feel so lucky to have met so may fans of the show, and to realise this show has brought so many people together. Watching it, loving it. So obviously, It comes to an end, it's going to piss you off no matter what."
The Danish actor, who portrayed Jaime Lannister, added;
"It's the end! But at the end of the day, it's absolutely fine. If you hated the ending if you loved it, that's great. Just don't call people names."
Conleth (the Master of Whisperers) joined in, saying;
"You look at the amount of people who are here. We are here to thank you for watching us all those years. This is the reality rather than a media-led hate campaign."
When Nikolaj was queried on his death scene, he said; "I thought it was perfect for him to end in the arms of Cersei."
Variety reported that some fans in the audience disagreed, and even booed the actor. "It made sense to me – that's just my opinion," he said.
His co-star Lena Headey (Cersei Lannister) previously said she was "gutted" about how her character died under the pile of bricks, and even revealed further disappointment over a crucial Cersei scene being edited out of the show.
Feature image: Instagram/@isaachwright