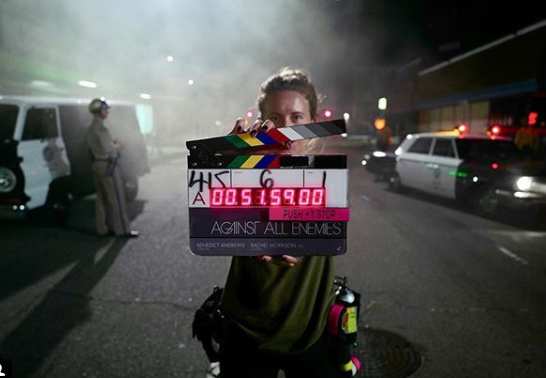 Dublin Feminist Film Festival is back, and better than ever.
The DFFF takes place from 20 until 22 of November at the Light House Cinema, and will prioritise shining a spotlight on women in film and promoting and celebrating female filmmakers.
The huge gem on Dublin's cultural calendar hopes to inspire and empower others to get involved in filmmaking, and after the turbulent year in cinema with the rise of #MeToo, the DFFF has more meaning than ever.
The festival is run entirely voluntarily, and all proceeds go to charity.
This year, the theme is REFRAME/REFOCUS.
Instead of foregrounding particular topics, this year features films which are directed by women but also shot by female cinematographers.
The emphasis is to get women as involved as possible in ALL aspects of film, not just in front of the camera.
The dual-aspect of showcasing and celebrating fantastic female film-making parallels with the hope to demonstrate women as compelling and complex characters and subjects.
The weight placed on cinematography this year is down to a very important fact: Rachel Morrison was the first woman ever to be nominated for an Academy Award for cinematography in 90 years of the Oscars.
Her work on Mudbound was breath-taking, and she worked hard for her nomination.
Historically speaking, cinematography has always been the hardest aspect of film for women to break into. One nomination simply isn't enough.
Production roles have nearly always been male-dominated domains, but recently some of the most exciting and visceral films in global cinema have been created by women.
For the fifth DFFF, thinking of film from the point of view of a woman behind the camera asks questions about how women see the world.
TimesUp and #MeToo have asked hard questions which need answers, and women are stepping up all over the world to share our stories and experiences.
This includes screenwriting, cinematography, directing, producing and acting.
If someone won't share your story and represent your experience, go out there and do it yourself. You can do it best.
We've seen it this year with black female actresses taking control of their own projects to finally get the roles they have consistently been deprived of: Octavia Spencer, Taraji P Henson to Lupita Nyong'o are currently producing and seeking out their own projects.
From documentaries to dramas, short forms to features or foreign films to intersectional feminism, there are facets of every side of cinema on show.
Their current aim is to expand the notion of who 'makes' a film and what 'films by women' actually means, while raising questions about the idea of the gaze.
Do films shot by women encompass a whole other gaze? There's only one way to find out… see you gals there.
As part of the festival there will be a talk by an esteemed academic on female cinematography, and a roundtable discussion with two Dublin-based female cinematographers as well as screenings of female-made films only.
Ready yourselves for some serious empowerment, ladies (and gents).
The deets:
The DFFF: 21st & 22nd November 2018 – Light House Cinema Smithfield Dublin 7
Launch & Special Events 20th November – The Generator Hostel Smithfield Dublin 7
Feature image: Instagram/@rmorrison