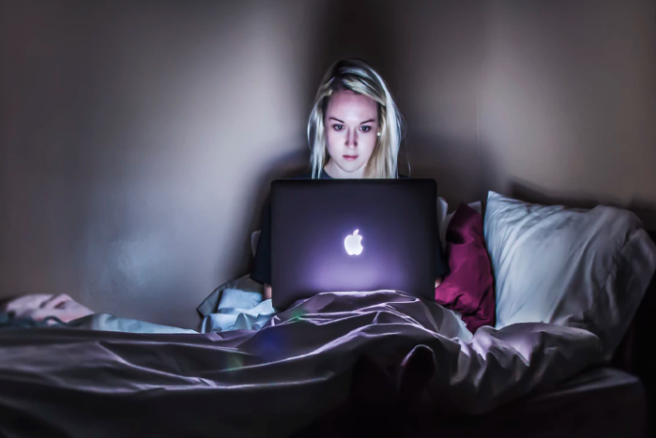 We all know that friend who has a SERIOUS case of Netflix addiction, and if you don't know which member of your friend group it is… then it's you.
From the Orange is the New Black days, to Black Mirror to the more recent Riverdale phenomenon, certain shows on Netflix really know how to reel us in.
There are days when we don't even get out of bed, all we do is watch shows over and over again and only pause for occasional snacking and bathroom breaks.
It's called dedication, people.
Here are a few key items on the gift list for those Netflix addicted friends or family members, or even just for yourself.
1. Noise cancelling headphones
If your Netflix-addicted gift recipient really appreciates their streaming game, they NEED noise-cancelling headphones.
Or else how can they show how dedicated they are to their true craft? We recommend these audio-technica headphones, you won't be interrupted by anything except good-quality Netflix.
2. Wearable blanket with sleeves…of course…
Any decent Netflix fan needs the ultimate blanket for their watching needs.
This snuggie blanket has SLEEVES, so there's no need to get tangled in your blankie and trip as you take a much-needed bathroom break or stock up on snacks.
It's practical, it's cosy, it's a gift.
3. Reusable water bottle
24Bottles have created the perfect reusable water bottle in their Eclipse pattern, and a Netflix addict has to stay hydrated while they're carrying out all of that bingeing.
This one is great value, environmentally friendly, sleek and lightweight. What better gift for a Stranger Things nerd than the present of H2O hydration?
4. Huggable Alpaca Cooling & Heating Pad
Each and every one of us could make use out of this precious baby alpaca cooling and heating pad.
If we're bingeing on Netflix shows like The Chilling Adventures of Sabrina or Riverdale, temperature has to be taken into account.
You may get overheated watching Archie Andrews on screen, or need some warming up after seeing the creepiest show of aLL TIME; The Haunting of Hill House.
Either way, the alpaca is bae.
5. Lovato Candles
You'll be needing a top class atmosphere while you dedicate the rest of your life to streaming services.
Candles are ideal for your shrine to Netflix Christmas movies such as The Holiday, Love Actually, The Princess Switch, A Christmas Prince and The Christmas Chronicles.
Get yourself in the mood for some treat yourself time.
6. Fairy lights
Setting the mood involves creating the perfect lighting.
Fairy lights are your best buddy when it comes to getting a sense of total relaxation and cool vibes for your Netflix sessions.
Festive Lights have some unreal ones on offer, including these ORCHID ones, which we are frankly dying to buy. Dying. Dead. Deceased.
7. Ice Cream… for obvious reasons.
Whether you're watching a sob story, rom-com or straight-up horror, you'll be needing some frozen yoghurt or ice cream to keep you company.
Irish brand Nobó make dairy-free frozen yoghurt that is honestly one of the best things we have EVER tasted. 10/10 would recommend for a Netflix friend.
8. Luxurious fur throw blanket
Surround yourself with luxurious fur as you stretch out on the sofa and watch yet another TV programme.
You know how it is… promise yourself it will only be 'one more episode', and four seasons of Drag Race later, you're sprawled out on the ground covered in popcorn.
Have this gorgeous fur blanket with you for support, at least?
9. Just Eat voucher
For Netflix nights with the gals, a night in watching movies with your significant other or just to stock up on food for yourself, Just Eat vouchers will go a long way.
You'll need all of that energy to finish Black Mirror, trust us.
10. Stranger Things Monopoly board
We have no idea who came up with this absolutely outstanding idea but we THANK THEM.
Play the classic monetary board game with Eleven, Mike, Hopper, Lucas, Will, Joyce, Mike and Nancy and prepare to battle against the Upside Down… cash money style.
11. Rick and Morty mug
The classic animated satiric comedy has resulted in an absolutely MASSIVE fanbase, and every fanbase needs a mug. FACT.
This Rick and Morty mug is the best thing you'll see today, the alcoholic science genius is the perfect face to have on any drink holder.
12. Riverdale Southside Serpents t-shirt
Riverdale fans, your time has come.
If you want to feel fierce in your Southside Serpents gear, try this Red Bubble t-shirt to get in the gang zone and embody your inner Jughead Jones.
13. The Chilling Adventures of Sabrina comic book
Read the basis behind Netflix' hit series, by Roberto Aguirre-Sacasa.
The young half-witch Sabrina Spellman must decide between an unearthly destiny or her mortal life on her sixteenth birthday.
Archie Comics' most recent horror sensation is a decent read, consider it 'research' for your Netflix binge.
14. 'I Do Marathons' t-shirt
Ah, the classic humorous t-shirt relating to how lazy you are. Perfect for a gift.
We're all human, and good quality humans have extreme Netflix marathons. It's just life.
If you don't do it, we can't understand you as a person.
15. Gourmet popcorn maker
Why make microwave popcorn when you can create your own gourmet popcorn in this gourmet contraption from Brown Thomas?
Your Netflix loving pal will shower you with gratitude for this present, we promise.
There you have it, friends.
All of the gifts and goods you'll need for the perfect Netflix bingeing session this Christmas.
Enjoy waking up covered in melted chocolate and regret at losing the last 26 hours to whatever show has changed your life.