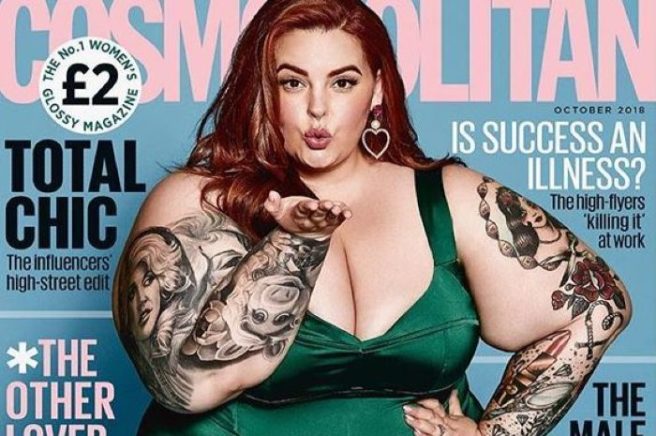 Magazines often fail to feature plus sized women on the cover. It's a simple fact. Walk into your local newsagents and you'll be met by an array of striking covers that mostly feature thin women.
Stars like Kendall Jenner, Margot Robbie and Selena Gomez often dazzle on the front of the glossies, and yes, they look beautiful, but they are all of similar size.
Women have yearned to be skinny since what feels like the beginning of time. We grew up thinking there was only one way we should look and that was thin.
Of course, there is nothing wrong with being thin, but we need to celebrate other body types.
This month, Cosmopolitan featured Tess Holliday on the front cover. Tess Holliday is a size 24.
The magazine wanted to celebrate plus size women, but instead they were met with a wave of backlash with many people claiming they were promoting obesity.
Some people's stories and strength of spirit are too important to ignore. Tess Holiday's story is about so much more than her body. Please read it, pass it onto women you know and realise that the secret to surviving in a tough world is by being even tougher pic.twitter.com/w0KqouoBnI

— Farrah Storr (@Farrah_Storr) August 30, 2018
Editor of Cosmopolitan Farrah Storr has hit back at the dismissive comments about what could be a historic cover for the publication.
During her appearance on Good Morning Britain, she explained her decision to put Tess on the cover: "This is one cover, which has a larger lady on the cover, in a sea, in a world, in a culture which has venerated – since I can remember – thinness."
She does not believe featuring a size 24 woman on the cover will promote obesity.
ZFS on @Tess_Holliday in @CosmopolitanUK pic.twitter.com/a5pP0rfbnE

— Zelie for She (@ZelieforShe) August 31, 2018
"Are people going to look at that and go, 'Do you know what? I'm going to go and mainline doughnuts, this is what I want for my life'. Of course not. It's patronising to say," she said.
"I'm celebrating her. I am not celebrating morbid obesity," the author stressed.
The cover isn't about promoting a certain size. It's all about showing women that there are tons of different bodies out there.
It is showing women that you can look beautiful and feel confident, regardless of your size.
It is reassuring women who may feel self-conscious or undesirable because of their weight.
The Cosmopolitan cover is opening the world's eyes to all the different types of beauty there are that never made it to the glossy pages of women's magazines until now.