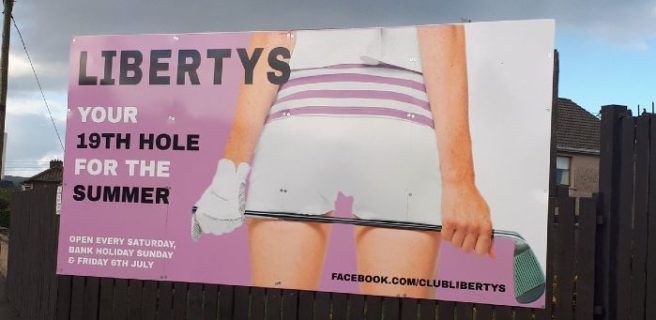 A controversial billboard erected by a Donegal nightclub has been branded as "disgusting" and "misogynistic" by furious locals.
The large advertisement for Liberty's club in Buncrana features am image of a woman wearing shorts and holding a gold club, along with the caption: ""Libertys – Your 19th hole for the summer."
The offensive ad had been the subject of numerous complaints, with many calling for it to be removed.
Despite the Belfast rape trial, #MeToo campaign & every other gender based violence story out there a night club in Buncrana, Co. Donegal thinks this is ok. As does I'm assuming whoever designed it, printed it & lashed it up. Disgusted. pic.twitter.com/FLEO2Z85gl

— Sinéad Ní Bhroin (@SineadMNiBhroin) May 12, 2018
Speaking to the Donegal Daily, Senator Pádraig Mac Lochlainn said the billboard was "just plain offensive."
"If it was shock value publicity they were seeking, then mission accomplished," he said.
"They need to cop themselves on, show some respect for our community and take it down!"
Many of the club's regular punters have also taken to the venue's social media calling for them to remove the offensive ad.
Meanwhile, RAPE culture is alive & kicking @ClubLibertys Buncrana Donegal. Women are just HOLES after all! Complaints about the recent billboards to club mgmt 086 2256598 or your TD https://t.co/90CBNm5GTE @RCNIreland @dgldemocrat @JuniorDoctorIE @NWCI @dglwoman pic.twitter.com/lZaFILji52

— AnnemarieNíChurreáin (@NiChurr) May 13, 2018
One commenter wrote: "This not funny. It's blatant rape culture.Please take it down and replace it with an image that shows a young woman who is confident, in control and sexy, as opposed to a faceless receptacle for some drunk guy's hard on."
While another accused the establishment of promoting "rape culture and misogynistic sexism."
"You should be ashamed of yourselves. This is being shared on social media and is doing you no favours. Promoting rape culture and misogynistic sexism in one poster."
The club has not yet responded to calls to remove the image.