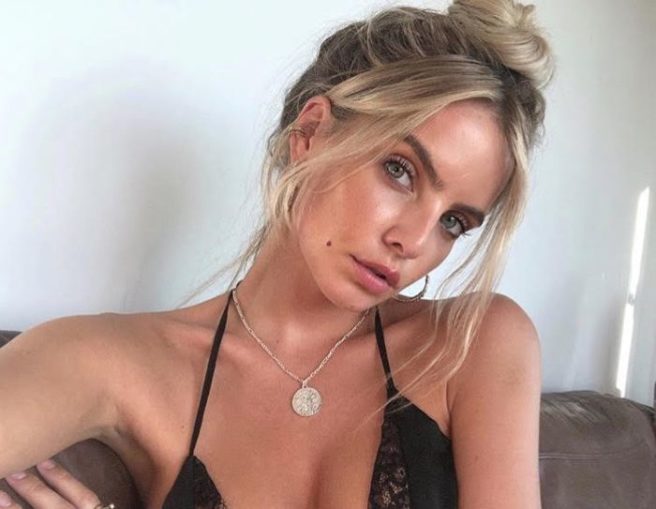 From gallivanting across the globe with her modelling work to stunning us all with the perfect Insta outfit picture, former Miss Universe Ireland Joanna Cooper is definitely one of our favourite people to follow.
Showcasing behind the scenes details of her majorly successful modelling career, as well as nights on the town and travel excursions, the 25-year-old has almost 100,000 people following her career.
We chatted to the model ahead of her appearance at last week's Nasty Gals Do Dublin event, to get the suss on her attitudes to social media, her modelling motivators and what the hell she uses to get her skin that stunning:
Working in modelling, Joanna is exposed to the full force of fashion influence, but maintains her classic, comfortable but chic look.
Describing her personal style as 'comfortable but cool,' she often looks to social media for inspiration.
'I spend a lot of time on Pinterest looking at trends on there, and I get a lot of style inspiration off Instagram, the likes of Olivia Culpo (@oliviaculpo) – just people that show their everyday style, so then when you're travelling you can look to them for ideas. They always know how to make comfortable clothing look really chic.'
'I wear a lot of black and a lot of leather so anything that looks effortless but cool,' she finished, described her own look – and one glance at her Instagram is evidence enough.
The model is loving boiler suits as a trend this season, rocking a particularly edgy leather one-piece from Nasty Gal to the brand's Dublin event last week.
When it comes to fashion, the Derry native definitely has a look that screams off-duty model. From statement jackets to perfectly fitting jeans, teamed with crop tops and simple separates, it's clearly a recipe that works. However, there is a trend that Coops isn't particularly fond of:
'I see everyone is wearing cycling shorts at the minute and I just cannot do it' she laughed. 'Not for me – they look fab on other people but I'm not feeling it.'
While fashion is clearly a strong suit for the gal, when we discovered we would be chatting to Joanna, one question immediately sprung to mind – her skincare routine.
Joanna is definitely renowned for having one of the most striking faces in the modelling industry, and a flawless complexion to match.
'I'm lucky that I don't have bad skin but its not amazing. What you see on instagram is a lot of products, and I think if you're going to invest in anything, invest in skincare because if you don't, then your makeup doesn't go on half as well and you're not addressing the problem underneath. I would invest in skincare and a good glowy highlight because then you can fake the glow.'
Stressing that she has never been sponsored by the brand, she revealed that her ultimate skincare hero product is the Alpha-H Liquid Gold – a glycolic resurfacing treatment toner. Joanna explains how using the toner every second night helps her to maintain her fresh faced glow.
Despite her whopping 96k following on Instagram, Joanna does not consider herself a social media influencer. The key to striking the right balance between running her day to day, hectic modelling work alongside having an online presence is not forcing it.
'I just like to keep it natural. If im on set or doing a job ill post about it and that seems to gain the most interest for me,' she detailed.
'I wouldn't really consider myself as an influencer. but people seem to be interested in my work so I just try and share as much if that as possible.'
While for many, the positives of putting yourself out there online are freebies, endorsements and encouraging comments, for Joanna, what she gets out of the online community she has crafted is the opportunity to chat with people she would not otherwise meet.
'I like to get to interact with people that you wouldn't get to interact with in real life, and if anyone has any questions I try to answer them as much as I can,' she said.
And while being an influencer, or in Joanna's case, a model with a huge following, can bring many opportunities to the table, the pressures and negative aspects of social media can be vast. Luckily, Joanna has not had to deal with too much online animosity.
'If I want to post something, I will, but I wont be like "oh I have to post something on Insta" so maybe it's because I'm not on it all the time that I don't really see any negative stuff.'
'I feel like because it's not my main job, I have my main job and I just post about it, that I don't worry too much. But I completely understand (the pressure) when it's your bread and butter to keep up with posts but because its not for me, that's why I can be a bit more laid back about it.'
As a model, Joanna has worked worked with huge brands, and her social media documents the hectic work schedule she keeps up – to remain motivated, she recalls always having wanted to work as a model, and her gratitude to be able to do the job she loves pushes her on.
'I like being busy. I've always wanted to do the job im doing, so now that i have it i just really appreciate it all the time and if something comes up id rather go and get it than sit back and later think 'oh I should have done that.' Its the fear of regretting not doing something.'
When it comes to the highly competitive modelling industry, Joanna remarks that there are two women in particular who she thinks are really changing the game.
'I love all of the plus size models like Ashley Graham.'
Louise O'Reilly – I love her. She has changed the game and changed how women look at themselves and has given women so much confidence.'
'Speaking of modelling she remarks: 'I'll never get bored of it,' but highlights how comparison syndrome can get her down like it would any other woman.
'The comparison aspect – when your job is based on your image sometimes its hard. You feel like shit one day and you have to go and stand in front of the camera. Every girl has insecurities if they are comparing themselves against other people and it becomes more prevalent when you are a model – you just have to understand that everyone is their own person and embrace yourself.'
'And with social media it has gotten so much worse, particularly in younger girls comparing themselves.'
Finishing up our chat, she left us with a major mic drop moment: 'You need to realise that social media is curated and what's online is probably 10% of that person's real life.
'Remember that everyone had their own struggles. You're just seeing curated images online – that's not real life.'