Gavin James is known for his love of Whelan's, his stunning voice which produces banger after banger, and his ability to make friends with pretty much anyone.
The singer-songwriter, who has achieved massive chart success at home and abroad with tunes such as Always, Glow and Nervous, from his breakthrough album Bitter Pill back in 2015.
We sat down for a chat with the man himself, who is the new ambassador for the Cadbury Secret Santa campaign, to chat to him about his "f*cking hilarious" father, his home away from home and his favourite celebrities, among other (random) things.
James has been known for his love and support for charities, especially Down's Syndrome Ireland, so it's not surprising that he's choosing a generous movement like Cadbury Secret Santa to represent this Christmas.
A Dairy Milk gift can be sent anywhere in Ireland for free, either anonymously or personalised, to someone you love. Frankly, that's adorable. After posting the very first Secret Santa gift of the campaign, Gavin speaks about what drew him to Cadbury.
"I have always loved the Secret Santa ritual; the excitement of sending a gift in secret and the anticipation of receiving a gift anonymously – it's so much fun! My dad is also essentially Santa." After pointing his dad out to me, I had to agree. He was merry with a white beard.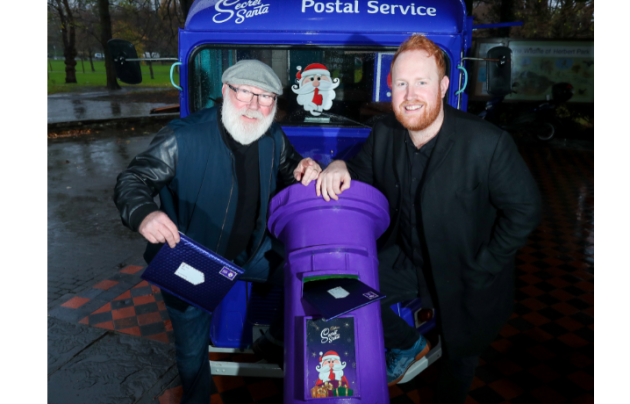 The artist brings his family and friends with him to gigs any chance he gets: "Its good to be able to bring them away with me. Every time I have a gig in Ireland my entire family goes, I brought my dad to a photoshoot today, which is f*cking hilarious."
Asking him about his early days of gigging in tiny pubs, and dedicated to his then-rock band, he describes why he transitioned into acoustic songwriting, despite still having an intense love for his electric guitar.
"I started off with my mates in Temple Bar, my hair was huge. I was also trying to sing high but I couldn't sing falsetto when I was younger, I had a raspy voice back then and couldn't pronounce the letter 's'.I never try to transition, genres just kind of come on their own, I think."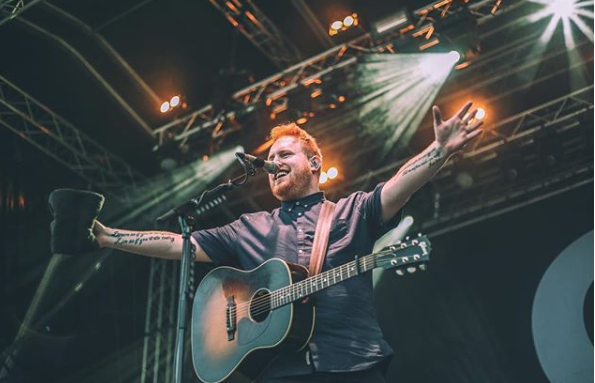 We're glad he found his niche, his musical talent started for him at a very young age, surrounded by musical talent within his own family. His latest album, Only Ticket Home, hit number one in Ireland and has already surpassed a million streams.
He describes his latest offering as a dedication to the art of "simplicity", with most of the songs only having four chords.
"They're not trying to be smart. There was one song that didn't make the album because I tried to record it and it just didn't turn out right. It was the best song I've written in a long time, but it sounded too far away from the right sound of the album. I have it in my back pocket for next year though. I found loads of songs in the cloud, I was chuffed."
"There was like 40 but 33 of them were shit. I usually have 100 ideas but one works. The first idea is always the best song. It's like a buffet, the first thing you look at is always what you want."
James has toured with some absolutely huge names in music, among them are Ed Sheeran, Niall Horan, Sam Smith and Kodaline, to name a few. With all this talent around him, we have to ask which artists have impressed him the most.
"Bands like Vulfpeck are absolutely insane, they're so good at playing stuff that I absolutely cannot understand. It's insane, like Stevie Wonder-esque."
"Foy Vance sang songs next to me, and his voice starts low and aggressively builds up and I don't even know how he exists. He's insane.""When it comes to Secret Santa gifts, Gavin's already done his bit for fellow musicians… and their skin, apparently. "Sam Smith. I gave him aloe vera before, he loved that. He's a really nice guy."
We're sure Sam would say the same about Gavin, but is there anyone in the industry who he has been disillusioned by, who maybe brushed him off? It's a notoriously tough industry, which requires a thick skin for survival. IT seems James has a level-headed approach to the whole 'fame' thing.
"There are people I don't want to meet purely because it would ruin how I feel about them, people I totally idolise, sometimes they're just not in the mood and you don't want to annoy them. Everybody I've ever met has been really friendly to me though, but if someone isn't being nice to me, I'll tell them. I don't mind saying that to people. It's easier to be nice."
"I couldn't meet Ryan Adams because I love him so much, and Bruce Springsteen. He's meant to be the nicest man in the world. I'd love to meet him but I'd be bricking it. I'd probably just say "thank you, Bruce, for all of these songs."
A year ago https://t.co/YY6WsRWnbJ

— Gavin James (@gavinjames) November 21, 2018
"When it comes to growing Irish talent, I love David Keenan. He's class. His lyrics are amazing. He has a song called Laurence of Arcadia with lyrics like;
"You're looking at the last know bar stool prophet to retire early from the trade, I'm going fishing for pearls of wisdom. I'll be dancing through the pissing rain. You're welcome to join me you annoyance, for I find you quite amusing all the same." It's amazing."
Irish artists have repeatedly found success abroad, yet the UK and US markets are infamously hard to break into. Why have some Irish artists such as U2, The Script, Hozier and now Dermot Kennedy made it big over there, and some slip through the cracks?
"The UK is a tough market. It's a weird one, like the Netherlands kicked off for me because they love a sad song, and I'm good at those. I brought out a Live at Whelans track, and was told it would reach top of the Dutch charts by Christmas. I didn't believe it, because it was a live recording. Then it went number one in the Netherlands, but no one would think of a live recording doing that."
His second album, Only Ticket Home, is still distinctly within the style of his debut, and James makes sure that his roots can come across in his lyrics. When he's in Dublin, he loves chilling with his friends in the pub, living out a normal life despite his new-found fame.
Where are his favourite parts of Dublin, and if he had to move, where would he find himself?
"Whelan's, but I spend most of my time in Temple Bar, even though it's seven euros a pint." *shivers*
"Where Doran's used to be, my mate Robbie owns a little snug next to it, an Irish pub. I always go there because it seems like a little secret spot where I'd just have a pint with my mates."
"I've never been to Coppers. I tried to get in years ago, I think they were closing up. They must have a quota of guys named Gavin or gingers, so I couldn't get in." (Can you BELIEVE this Dubliner hasn't stepped foot in the notorious nightclub? We are shook)
"I went on one night out to Nashville to see Ron Pope, and ended up staying there a week."
"I'd definitely move to Nashville. Very random, it's musical but it reminds me of Dublin in a lot of ways. I have a lot of friends there, I made a lot of friends there very quickly. It's cheap too, it's not f*cking mad, it's not like Los Angeles. I'm not into L.A. How the hell do people get around there?"
Sounds like this lad has his head screwed on right, that's for sure.
We got two hugs out of him and a Cadbury Secret Santa letter, so we are officially his number one fans.
Only Ticket Home is out now, grab your tickets to see him live in 2019 here.
Don't forget to become a Cadbury Secret Santa and give a little something extra this Christmas- visit www.cadbury.ie/secretsanta and follow all the action on the Cadbury Ireland Facebook and Twitter pages.