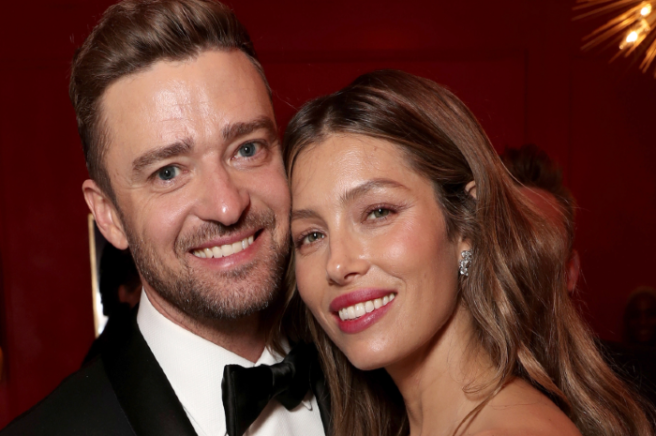 Jessica Biel is sending some serious lurrrrrve vibes Justin Timberlake's way. The married pair are absolutely adorable, and share three-year-old son Silas together.
Biel, who recently produced and starred in the incredible Netflix show The Sinner, has now uploaded the CUTEST message to her husband, and we can't stop weeping.
The 36-year-old actress posted a photo of the happy couple smiling underwater, and captioned the note;
"Since the days of embarrassing pink ruffled bikinis and underwater photo shoots, you have been infusing my life with so much joy and laughter that I blame YOU for my smile lines. But I wouldn't trade them for the world."
She continued; "I wear them with pride knowing that I am the luckiest human around to have the honour of hearing your jokes, your words, your voice, every day of my life."
"Happy birthday to the man of my blue ocean dreams. I love you." OH. MY. SWEET. LORD. The man of my blue ocean dreams? That's some poetry right there.
Timberlake is celebrating his 38th birthday with his wife, and headed to the theatre to watch a performance of To Kill A Mockingbird on Broadway,
The singer is currently wrapping up his Man of the Woods national tour, which has a show slated on the day of his actual birthday.
Their big night out seemed to take a lot out of Biel, who fell asleep in the car, much to Justin's amusement. He posted a hilarious video singing happy birthday to himself, while his wife is fully in dreamland beside him.
He added the cheeky caption; "Gotta work tomorrow for my bday so wifey really going all out tonight…" She playfully replied; "I'm just preparing for our big night out. Just preparing."
Thursday night's Madison Square Garden performance was originally meant to happen in October, but Timberlake had ongoing bruised vocal cords and was forced to postpone it.
The former *NSYNC member previously had an operation to remove his throat nodules back in 2005.
The Hollywood pair tied the knot in 2012 in a magical ceremony in Puglia, Italy. The pair always say that laughter is the core of their relationship, with a joke first bringing them together.
Timberlake revealed in his first book, Hindsight: & All the Things I Can't See in Front of Me, back in November that the duo met at a Hollywood party and clicked immediately.
The SexyBack singer wrote;
"When I met Jess, it was undeniable how beautiful she is. I made some sort of sarcastic comment, really dry. Nobody got it except her."
"She laughed, and I noticed, all of a sudden, and in the way where you wonder if a person's like you, if they have a very dry, dark sense of humour, too," he said.
Justin couldn't stop thinking about Jessica after their first meeting; "I'm kind of really interested in that girl. There was just something about that girl. Kind of interested in that girl. Goddamn it."
The actress later came to a show during his FutureSex/LoveSounds tour. He finally asked for her number after offering her a lift in his tour bus.; "Then the Golden Globes came up, and that's when we planned on seeing each other."
"We've had a lot of unforgettable times," Timberlake added. "She's become a huge influence on my life, and I have such an admiration for her, especially seeing her as a mother now."
The romance didn't stop there, with him gushing about her influence; "But I had admiration for her before. She's a very good writer. She's a poet. She's a tremendous actor. She's funny. Very funny. And she's one of the most patient people I've ever met… She changed me. She changed my life."
AWWWWWW.