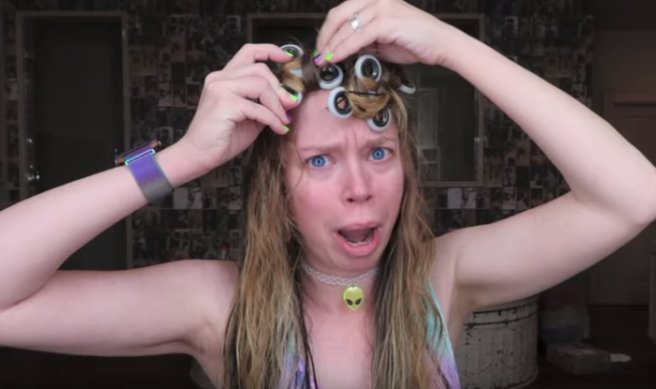 The world is obsessed with fidget spinners at the moment, and there isn't a kid in the country who doesn't have one of these nifty little toys stashed in their pencil case at this very moment.
The toys have been adopted by the online beauty community, with MUA James Charles using the spinning gadgets to create a killer contour.
Now, YouTuber Bunny Meyer, or Grav3yardGirl as she is known to fans, has incorporated them into her hair care routine.
Out of curiosity, the YouTuber decided to test the toys to see if they could be used like hair rollers to create luscious wavy locks.
She ordered a bumper-pack of 100 of them, but only ended up needing 18 to complete the hair care trial.
Starting off with wet hair, Bunny wrapped small sections of hair around each curve of the spinners.
Using bobby pins to hold the whole thing together, she blasted the look with a hair dryer to set it.
The result?
Well, it actually kind of worked if you're into Kesha-eaque wavy locks.
However, Bunny did comment that the toys were a literal pain in the neck thanks to their weight.
Check out the final look for yourself;