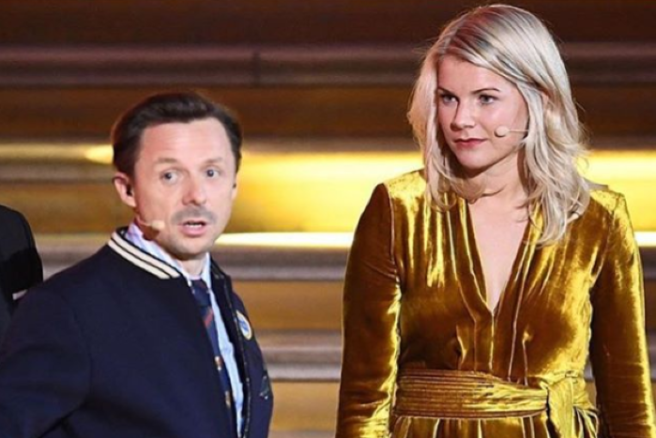 World-renowned footballer Ada Hegerberg had just been crowned the first ever female recipient of the Ballon d'Or award, which essentially is a marker that you are the best player IN THE WORLD btw, when French DJ Martin Solveig put his foot in it.
He created a hugely awkward moment on stage when he asked the gifted player if she could 'twerk', to which she curtly responded with a simple 'No'.
We probably would have responded in a much less classy manner, but that's a testament to how much sexism she has presumably had to deal with as a female footballer.
The 42-year-old DJ claimed that the Lyon and Norway superstar forward, despite answering "no" – had told him after the ceremony that she "understood it was a joke".
Hegerberg also told BBC Sport she "didn't consider it sexual harassment" after the 23-year-old was recognised as the world's best player in Paris
It was all the more awkward seeing as the footballer's speech was referencing her hopes of inspiring girls to believe in themselves.
The reaction on social media was swift and furious, with tennis player Andy Murray commenting on the matter; "Another example of the ridiculous sexism that still exists in sport."
"To everyone who thinks people are overreacting and it was just a joke… it wasn't. I've been involved in sport my whole life and the level of sexism is unreal."
Solveig took to Twitter to express his apologies, but claimed that it was a total misunderstanding.
I explained to @AdaStolsmo the buzz and she told me she understood it was a joke. Nevertheless my apologies to anyone who may have been offended. Most importantly congratulations to Ada pic.twitter.com/DATdg0TfQk

— Martin Solveig (@martinsolveig) December 3, 2018
He also uploaded a video, claiming that anyone who has known him for a while is aware of his respect for women, and that it was taken out of context;
Sincere apologies to the one I may have offended. My point was : I don't invite women to twerk but dance on a Sinatra song. Watch the full sequence People who have followed me for 20 years know how respectful I am especially with women pic.twitter.com/pnZX8qvl4R

— Martin Solveig (@martinsolveig) December 3, 2018
We don't quite know what to think of this one.
Do you think the question was out of line, and that Murray is right in saying that sexism still exists in sport?
Or do you think this all blown way out of proportion?