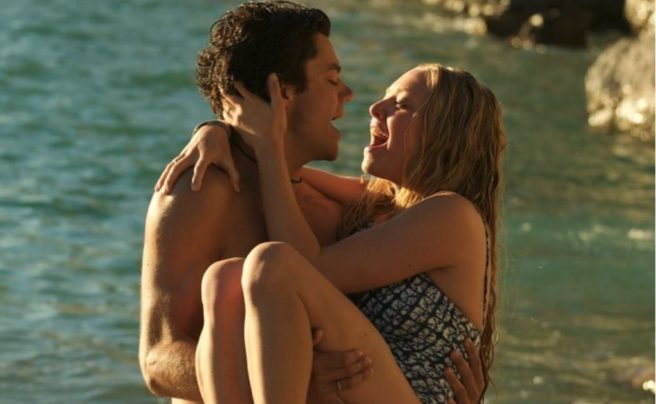 Running into an ex-boyf is one thing, but playing his wife in a movie is another entirely.
This nightmare scenario is what happened to actor Amanda Seyfried when she was filming the sequel to her 2008 hit movie, Mamma Mia!
Amanda, who play's Sophie in the movie, and Dominic Cooper, who plays her on-screen love interest, Sky became a real-life couple after the original movie's release.
Although the duo split up three and a half years later, they still hung out on Amanda's 30th birthday and remained good friends.
Which seems to have worked out well, now that they're back playing a couple again ten year's later.
But how does Amanda's husband, Thomas Sadowski, feel about this?
''I think he has the same kind of issues that I would have if we were hanging out with his ex-girlfriend from long ago," the 32-year-old told The Mirror.
"I'd guess he assumed Dominic is in love with me the way he's in love with me. And it's just not the case. I'd rather he be jealous than completely fine with it. He's very supportive and he loves this movie, and [he and Dominic] got along absolutely fine when we were shooting."
It's a good thing that her hubby isn't too jel because it certainly seems like they're BFF's with Dom posting pictures of Amanda and other cast members to his Instagram.
Mamma Mia: Here We Go Again! is hitting a cinema screen near you this weekend.
So get out and see it – you will deffo not be disappointed!