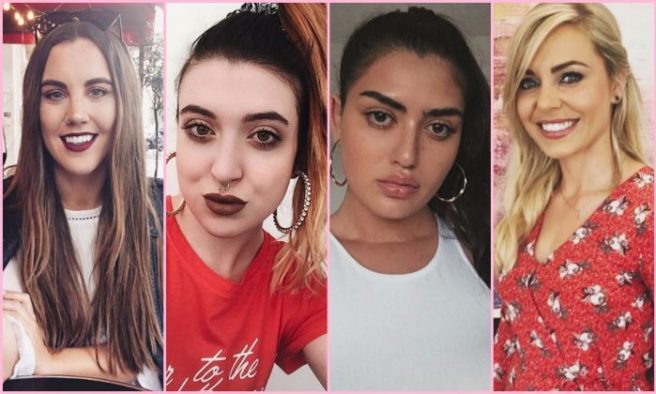 12 baes of Christmas: Influencers who made a difference in 2017
With only 12 days left until Christmas, we decided it was time to contemplate which Irish influencers really reached us with their initiative, creativity and contribution to society, online or IRL.
Here at SHEmazing HQ, we want to pay homage to the influencers who utilise their platforms to actually make a difference in people's lives.
Whether it's committing themselves to cruelty-free living, promoting body positivity, or actually speaking out against the veneer that can mask the reality of making a living online, here are 12 fierce females whose message really spoke to us in 2017.
12. The Skin Nerd
Everyone has some skin issues at some stage of their lives, and when it happens, it can be tough to deal with in an online culture that sees many models, celebs and influencers airbrushing their skin into oblivion.
Luckily Jennifer Rock, aka the Skin Nerd is on hand. Since the development of her Cleanse Off Mitt, Jennifer has been helping to normalise the existence of skin problems, while advising Irish women on how they can soothe break outs and perfect skin texture.
11. Naomi Clarke
Naomi, or The Style Fairy as she is known to her Insta followers, fills her feed with feminine fashion and parenting pics.
Along with her aesthetic snaps and style tips, the mum has always been open with her followers about her struggle living with Type 1 Diabetes.
The blogger has even given a talk at Temple Street Children's Hospital, in order to help teenagers living with the condition. Yas queen.
10. Enya Martin
If laughter is the best medicine, then a trip to comedian Enya's Facebook page could cure a medley of ailments.
The Dublin-based comedy queen has been cracking us up all year with her relatable sketches.
Giz A Laugh has been brightening up our darkest days over the last 12 months, so we had to honour Enya for her comedic contribution to our lives.
9. Irena Drezi
Visibility for plus-size women in the fashion industry has come on leaps and bounds, but there is still a way to go.
Not Another Agency model Irena uses her Instagram to promote body positivity while showcasing her distinct fashion taste to her 90k followers.
'My biggest mistake was constantly comparing myself to others, there was a fixed image in my head that portrayed 'perfection' when in reality it doesn't exist,' she wrote on the social media site.
'As a model I'm categorised as 'plus size' when really the average woman is a UK size 12/14 like me. Stop striving for perfection and just accept yourself.'
8. Veg Huns
The Veg Huns (how much do you love that name?) are a triad of Dublin-based gals promoting an ethical, plant-based lifestyle.
Their combined YouTube videos, Facebook page and Instagram give wannabe vegans a place to find hints and tips on transitioning to the lifestyle with a distinctly Irish feel.
They also promote Irish businesses who make things easier for the thousands of vegans living on the Emerald Isle.
Siobhan has built one of the most substantial Irish fitness followings, and is carving out a health and fitness empire of her very own.
The PT has admitted that she isn't a fan of the word influencer, and while she may be a key player in Ireland's fit fam phenomenon, she is always open about the gruelling mental and physical aspects of body building.
'One thing I never really planned for was to be a social media influencer,' she previously told SHEmazing.
'I'm not even a fan of the word, but I realised that I am always my own advertisement and now I feel like I am living in my own little reality TV show.'
While Anouska may be known for her razor sharp style and equally sharp photography skills, this year she put her name to an environmentally-friendly initiative.
Coffeangel this year created a KeepCup in an effort to combat the fact that up to 2 million coffee cups end up in Irish landfills every single day.
Anouska, who was involved in the campaign production, put her content creation skills to good use in her captivating video about the concept.
We also commend her for her honesty regarding her over-bleached locks, there aren't many bloggers who would admit to making a beauty mistake, and we're pretty sure every blondie has come close to this one.
As well as being one of the most authentic and down-to-earth bloggers out there, this year Sarah branched even further out of the typical 'influencer' conversation topics by discussing sponsored content.
Using her Instagram as a platform, Sarah candidly discussed the over-saturation of sponsored content, hallmarked by #ad, we see on social media.
Reminding her followers that there is an unfollow button for a reason, she pointed out that they don't have to be at the receiving end of unwanted ads if they choose not to be, a risky move for any influencer.
Luckily, even Sarah's sponsored content is well thought out, creative and credible, and so she is one of few who could reliably comment on the matter.
The Food Medic, aka Dr Hazel Wallace, has always argued the case for healthy, balanced eating.
The junior doctor and qualified PT is a fitness 'grammer with a legitimate education in human health.
Hazel has also been open in the past about struggling with mental health issues, and is a solid reminder that it is as important to care for your mental health as it is your physical.
In the last 12 months, the doctor also tacked the issue of dangerous skinny fit teas which began cropping up online, promoted by everyone from the TOWIE cast to the Kardashians, by promoting a campaign to remove dangerous laxatives from detox tea. Amazing role model, much?
3. Anna Geary
Former Cork camogie star Anna Geary is passionate about women in sport.
The wellbeing coach is intent on keeping Irish families fit and healthy thorough a wholesome combination of healthy eating and sport, which is clear from her work on Ireland's Fittest Family.
Anna keeps things relatable on her Instagram, showcasing her glamorous side as well as her down-to-earth nature.
This year, long-time blogger Leanne Woodfull took a step in an ethical direction by pledging to only promote cruelty-free products and companies on her blog and social media channel.
This is a refreshing change from influencers who never give a second thought to the ethical implications of their most recent makeup haul.
The pro-choice Dubliner also made a bold move by calling out other bloggers for their silence on the issue of abortion rights in Ireland in an open letter on her blog, Thunder & Threads.
'The silence from my peers in the blogging and social media world confuses and upsets me daily,' she wrote.
'We have each worked hard on and attracted influential online platforms, that people venture to to hear our words, thoughts and recommendations. Somehow, human rights and tragedy don't fit into those platforms though for the majority – despite the influence to help and educate at hand.'
1. Andrea Horan
Where to even begin with Andrea Horan?
As well as inspiring women across Ireland to don their most dramatic, animal-print statement pieces, the Tropical Popical entrepreneur is the creative force behind some of Dublin's most innovative concepts.
In the last 12 months alone, the abortion rights campaigner has encouraged major discussion about Ireland's anti-abortion laws through the further development of The Hunreal Issues.
The business woman and fashion force is also fighting period poverty by encouraging women to drop off extra sanitary supplies to Tropical Popical to be distributed to homeless women in Dublin who otherwise would not have access to feminine hygiene products.