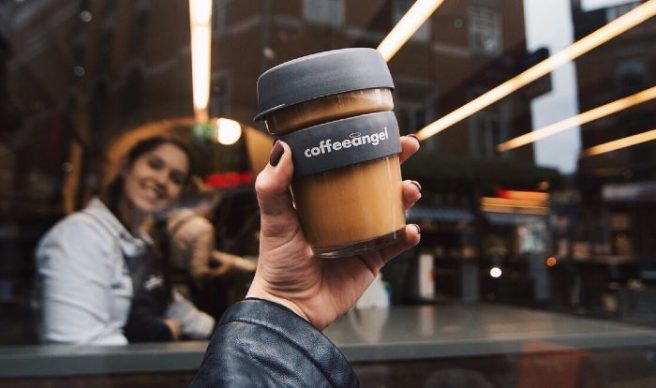 Keep Cup: Coffeeangel's reusable, environmentally friendly initiative
The Irish Government has announced plans to propose a levy on disposable coffee cups.
For the privilege of tossing your paper cup in the trash, you can expect to pay up to 15cent more per cup than before under the potential measures.
The cafe sector creates a huge amount of waste through coffee cups, lids, stirrers and sachets, and up to 2 million coffee cups end up in Irish landfills every single day.
One cafe with big plans to combat the massive waste is Dublin coffee connoisseur Coffeeangel.
Coffeeangel believes the most effective way to tackle the cafe industry's waste issue is by raising awareness and encouraging the use of reusable cups.
The coffee concept has teamed up with Friends of the Earth to create the KeepCup – a reusable coffee mug with a difference.
Even Teddy is a big fan of our #coffeeangel #YourCupOurFuture keepcups! Get yours in any of our stores or buy online #YourCupOurFuture pic.twitter.com/hiYRh8mfGN

— coffeeangel (@coffeeangel) November 7, 2017
The Keepcup comes in at €18.00, a little pricey for a mug, but it's the gift that keeps on giving – literally.
Every time a Coffeeangel customer uses their Keepcup, the cafe will donate 20 cent of the order to Friends of the Earth.
The money will go towards helping to support local environmental initiatives.
Exciting news! #CoffeeAngel tackles cup waste w/ #FriendsoftheEarth in #YourCupOurFuture initiative: https://t.co/kVkBtCh6Zo @coffeeangel pic.twitter.com/b1ol9mspRk

— Friends of the Earth (@foeireland) November 6, 2017
'It is impossible to ignore the impact the human race is having on our environment, and whilst the challenges and changes required are immense, we wholeheartedly believe that through the power of small, personal initiatives we can help make a difference,' said Caroline Sleiman, Director at Coffeeangel.
'That is why we have decided to donate 20¢ to Friends of the Earth Ireland, on behalf of our customers, from every Coffeeangel coffee served in a reusable KeepCup as part of our new 'Your Cup Our Future' initiative.'
'We explored more conventional incentives for reuse, such as giving 20¢ off a purchase, but we believe our customers are as concerned about environmental issues as we are and want to create bigger impact with their purchasing decisions.'
Sounds pretty environmentally savvy to us.