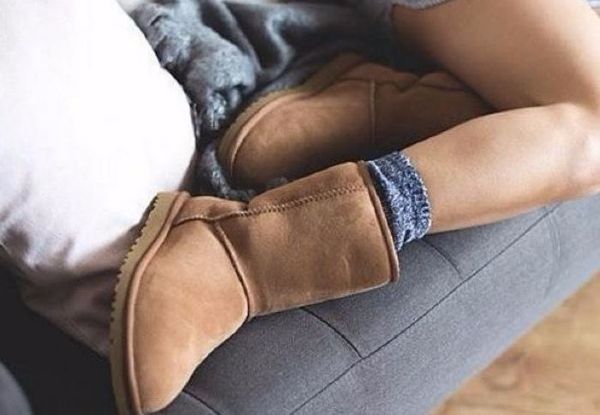 We all like be comfortable on a long haul flight (or a short one ever, idf we're being honest!)
And I challenge you to tell me of a more comfortable shoe than a gloriously fluffy pair of UGG boots.
Well, if you love hitting the airport in a cosy UGG boot, you may want to reconsider ever flying with Qantas Airlines (one of Australia's most popular).
Joanne Catherall, a singer from The Human League, was recently turned away from a Qantas Airlines business lounge because she was wearing UGGs.
Apparently, the airline deemed Joanne's UGG boots as 'sleepwear' – which is banned from business and first class lounges.
Strange I had no problem in either the Perth or Adelaide @Qantas lounges wearing my Uggs even though they are apparently on the no go list in those 2 airports as well pic.twitter.com/sWbS32rDe4

— Joanne Human League (@Lubycat) December 15, 2017
It all sounds a little extreme, if you ask us.
Also, does anyone else see the irony in the fact that UGGs are banned from an AUSTRALIAN airline – the birthplace of the UGG brand.
This is also not the first case of an airline attempting to police a woman's attire this year.
In March of this year, United Airlines made headlines when they prohibited a young girl from boarding a flight because she did not meet their dress code policy.
She was wearing leggings… I mean, REALLY?
What do you think, ladies? Do airlines have a right to dictate what we wear?