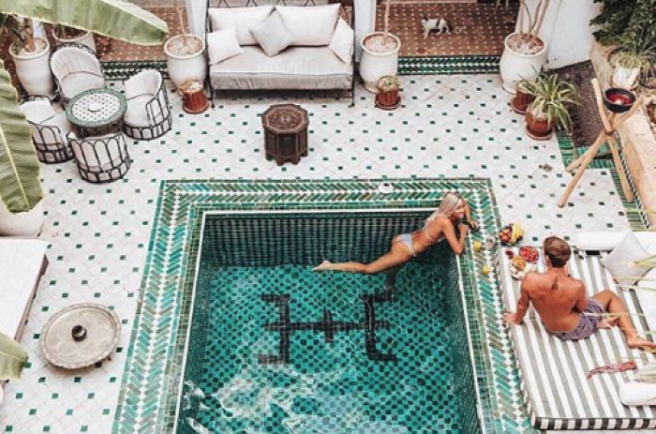 Instagram is the place we go to for our travel inspiration these day.
We've discovered so many new and wonderful places when planning trips away thanks to the app, places we never would have dreamed or known existed.
Thanks to the popularity of high-flying travel influencers, there are a few uber-popular spots around the globe to get that Insta-perfect shot – and this pool is one of them.
If this is the first time you've seen this stunning swimming pool, then congrats, you're probably not stuck to you phone as much as the vast majority of us.
For others, you'll have seen this pool on the 'grams of every wanderlusting blogger worth their hot dogs or lets shot.
The pool is located in the the heart of Marrakech, Morocco, at the very glam Riad Yasmine boutique hotel.
The hotel is an eight-bedroom guest house, created in the classic Moroccan style of building with an inner patio.
Ran by a gorge French couple, the guest house is a botanical paradise for travellers seeking out adventure and cultural beauty in Morocco.
Side note, there's even a house cat called Bowie.
The now iconic inner courtyard hosts a number of day beds and a breakfast nook, as well as a crystal blue pool surrounded by distinctive tiles.
Fancy getting the perfect picture for the gram on your trip?
Rooms at the Riad Yasmine go for as low as €100.00 per night for two people.