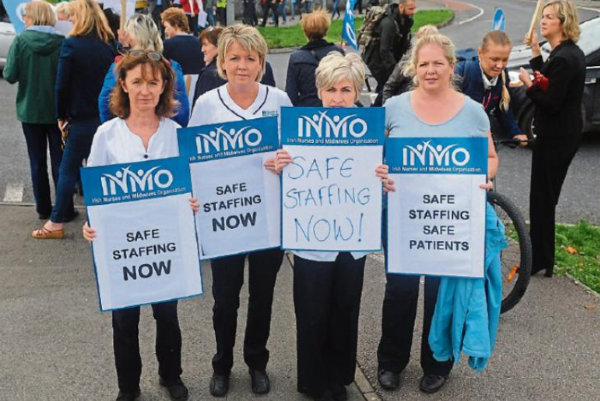 Picketing officially began this morning for the nurses' strike, which is only the second time in 100 years that the group have carried out work stoppages.
According to The Journal, three-quarters of Irish people support the nurse's 24-hour strike, which is being carried out over an apparent recruitment and retention issue.
Nurses and midwives across the county will be out on the picket line today, fighting for pay and better working conditions at hospitals and private clinics nationwide.
Nursing unions are seeking pay parity with other health service grades, such as physiotherapists and occupational therapists.
Nurses and midwives are going on strike for only the second time in 100 years.

They are standing up for patients and fair pay.

If you're near a picket from 8am-4pm tomorrow, drop by and show your support.

Full list of pickets here https://t.co/zbPHTsvcyR pic.twitter.com/KUKj5oJqfq

— Irish Nurses & Midwives Organisation (@INMO_IRL) January 29, 2019
The Irish Nurses and Midwives Organisation (INMO) has announced that talks which were held at the Labour Court on Monday night did not lead to any breakthroughs.
The INMO has over 40,000 members, and announced the strikes earlier in January. Over 90 percent of members which were polled voted in favour of industrial action in a ballot held in November.
According to nurses, increasing their pay is the only way to retain nurses, and this would improve working conditions, as well as the recruitment and retention crisis among members.
Members' update: the Labour Court has confirmed today that they will not be intervening at this time.

We are disappointed by the lack of proposals from government, so the strike preparations for tomorrow continue.

— Irish Nurses & Midwives Organisation (@INMO_IRL) January 29, 2019
The government has expressed it's concern over pay rises for nurses outside of the broader public sector pay agreement reached last year, and has refused to give in to the nurses' demands.
The strikes have gone ahead after the Labour Court claimed it would not intervene in the dispute in a formal way, as the government are anxious that other industries will also request pay rises if the nurses obtain their requested 12 percent rise.
A Claire Byrne Live/ TheJournal.ie poll of 1,000 adults by Amárach Research found huge support for the nurses' action, with 74 percent of participants expressing agreement with the 24-hour strike.
Only 17 percent said no, while 9 percent were unsure.
Nurses and midwives at SIVUH #Cork, #Tullamore, St Columcille's and UH #Sligo all out in force this morning . #standwithnurses #standwithmidwives https://t.co/ua8qW23Ea7 pic.twitter.com/of7WfrmWBK

— Irish Nurses & Midwives Organisation (@INMO_IRL) January 30, 2019
Members of the public have been requested by the HSE only to attend emergency services in hospitals if it is totally necessary.
Liam Woods, HSE national director of acute operations, commented; "We would appeal that patients would only attend the emergency services if absolutely essential."
In emergencies, there will be an emergency response, and any patients whose appointments or surgeries have been cancelled will achieve priority in the weeks following the strike.
The INMO has also said that further strikes will take place on the February 5 and 7, and then February 12, 13 and 14 if an agreement cannot be reached.
Feature image: Limerick Leader