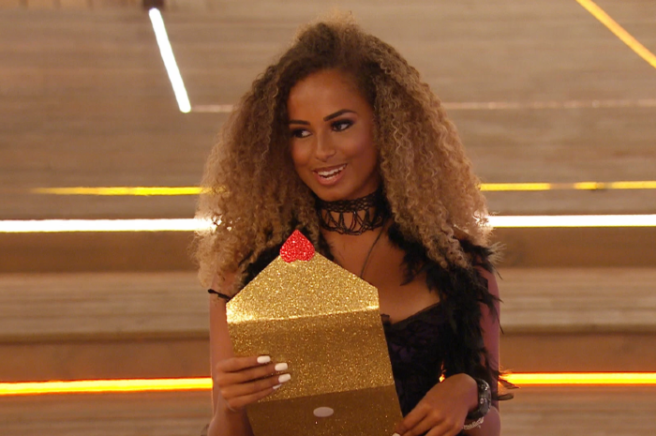 Queen of the Love Island villa Amber Gill has reacted to Michael Griffiths crawling back to Joanna Chimonides after he was dumped from the house.
She believes that she deserved to win with Greg O'Shea because of the horrendous journey Michael sent her on, after the firefighter's head was turned while she was at Casa Amor.
Michael and Amber coupled up early on but were torn apart after he broke her heart by cheating with Joanna Chimonides.
Amber deserved to win. Girl got swapped for Joanna by Michael, treated horribly by them, gaslit and then the same guy tried to mess her up again and take her back but she had the self respect to choose Greg and walk away from that toxic relationship and WIN. #LoveIsland

— Sam (@saml0ve11) July 30, 2019
Michael and Joanna have been spotted together on the outside kissing at a festival, despite having a fight when Michael didn't walk away from the villa with her when she was dumped.
In the explosive row, Joanna branded Michael a 'snake' and said 'if you've found what you want then you'd better f*cking leave, mate." Yikes. Despite this, they seem to be back together.
Amber has since branded their reconciliation 'weird.', saying; "Am I surprised by that? To be fair I didn't see much of their relationship. I don't really know how they were."
The moment when Joanna called Michael a snake tho @LoveIsland #LoveIsland pic.twitter.com/3CGtMy0uis

— ITV2 (@itv2) July 15, 2019
The Geordie lass added; "Michael definitely tried to come back to me so I think it's a bit weird. I don't really want to say too much," said Amber.
The 21-year-old said she doesn't believe she would have won the public vote in Monday's live final if she had gone back to Michael.
"If I'd gone for Michael it would have been she's gone back to the guy who didn't treat her well," explained Amber. "Me and Greg were a good match and he came in when I needed a gent and I feel like that's why it went for us," she added.
"I don't think Michael will be kicking himself. I think he was happy for me either way. I think everything happens for a reason. We'll have to see what his reason is," she told the Mirror.
Joanna and Michael set the rumour mill alight when they were spotted looking cosy at a Kisstory even in London on Saturday.
Joanna had vowed that she'd never go back there, but this appears to have been straight up nonsense…She's since denied any romance between them.
A little thank you from your brand new king and queen of the villa, Amber and Greg! #LoveIsland pic.twitter.com/z9v4i3qoFL

— Love Island (@LoveIsland) July 29, 2019
She hit out on social media: "I just want to make a point, we weren't kissing. He was saying something in my ear and I found it funny. I can't remember what it was," she told her followers.
"Is her ear located in her mouth?" tweeted one online user. Michael's reaction to Greg and Amber's win was to say; "Oh s***, oh s***, I did not expect that," he said. "Ratings."
He also implied that Amber would have stolen the 50,000 pounds rather than split it, which is another loads of bullsh*t from a bitter man.
Feature image: ITV/REX