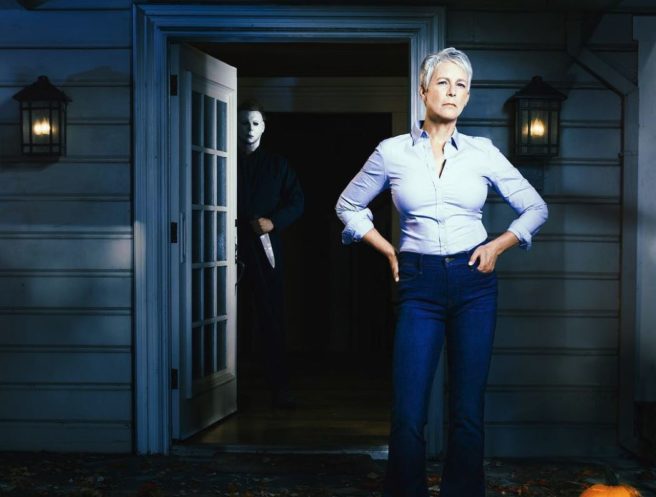 Get ready to hide behind – well, anything, because Michael Myers has returned for one final killing spree, 40 years after his first in 1978.
The official trailer for Halloween was released last week at San Diego Comic Con and it scared the absolute sh*t out of us tbh.
The sequel follows on from the second movie in 1981 (making the wise decision to ignore the later, more unforgettable sequels.)
The #HalloweenMovie trailer is OFF THE WALL. Michael has literally never been so terrifying. And I've never been more in love with Laurie Strode.

— Corey Chichizola (@CoreyChichizola) July 20, 2018
Jamie Lee Curtis is back as Laurie Strode, who is suffering from PTSD following the bloody events of that Halloween night 40 years ago.
This time, the plot goes as follows: Michael has been incarcerated in a psychiatric facility since the original night of murders when he is confronted by two filmmakers who want to learn more about his attacks.
Triggered by this, Michael escapes and heads off to stalk and torture women once again – but he knows one thing: Laurie will be ready and waiting for his return.
There are some changes to Jamie Lee's characters backstory – in this version, she has a daughter, played by Judy Greer, instead of a son.
She is also not the sister of Michael Myers, who is simply a manic, unknown serial killer.
Jamie Lee discussed how these changes positively impacted her character at San Diego Comic Con.
According to Entertainment Tonight, she said, ''it's a movie about trauma. It's a movie about what happens to somebody when you're 17 years old and you have this horrible trauma perpetrated on you, and you have no help. This is a woman who has carried, for 40 years, her entire adult life, this trauma.''
Yes, we can imagine being chased by a knife-wielding masked man who has butchered your two best friends would be fairly traumatic alright.
"We are seeing in the world today, primarily women, who have been traumatised in all sorts of ways, physical violence, emotional violence, sexual violence and, in Laurie's case, actually knife-attack violence… all of those women are having the moment where they will no longer allow that to be the narrative."
She continued, ''no longer does that define them, that they are standing up and saying, 'Enough'. And this is a movie about 'enough' at a time when it happens to be a national and worldwide message. And so it couldn't't be timed better, and it couldn't't have been written better."
John Carpenter's Halloween has long been hailed a a classic and fans have been sharing their excitement on social media in the lead-up to this latest instalment.
Someone on Twitter clearly wasn't counting down or anything when they wrote, ''12 weeks and 87 days till the #HalloweenMovie drops on theatres!'' while another said, ''amazing how this movie will bring us #HalloweenMovie fanatics together. The cool thing is we have a couple of months to go to grow this family. Gonna be awesome.''
The eagerly-anticipated movie will hit screens worldwide on October 19th 2018 and WE. CAN'T. WAIT.