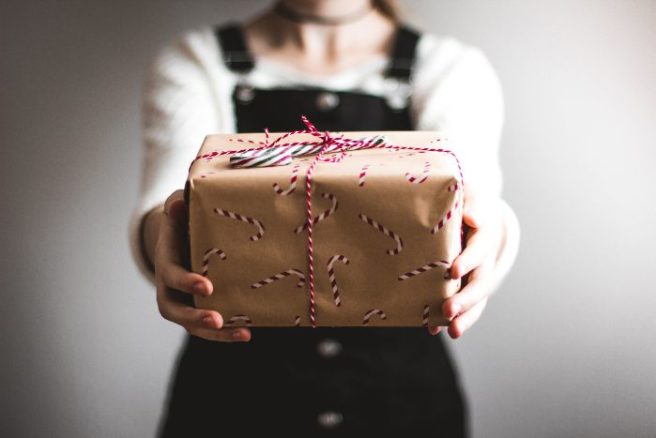 Whether it's a gift for your Mum, your best friend or yourself, these Christmas gift ideas are sure to please.
Becoming – A Guided Journal by Michelle Obama (published by Penguin Random House)
What's your journey of becoming? Based on Michelle Obama's bestselling memoir, this gorgeous journal features an intimate and inspiring introduction by the former First Lady and more than 150 inspiring questions and quotes to help you discover-and rediscover-your story. "It's not about being perfect. It's not about where you get yourself in the end. There's power in allowing yourself to be known and heard, in owning your unique story, in using your authentic voice. And there's grace in being willing to know and hear others. This, for me, is how we become." – Michelle Obama
These pages will help you capture your own voice and journey so you can nurture your sense of belonging. Inside, you'll find an opportunity not only to take heart in the experiences that brought you to where you are today, but also to feel empowered to take those next steps, wherever they might lead.
RRP €18.99
Available in all good bookshops
Iluma Intense Brightening Exfoliating Powder by Image Skincare
The onslaught of winter can impede the skin's ability to shed dead skin cells naturally, which causes a build-up that casts a dull look over the skin and often highlights imperfections. By exfoliating the skin, you can remove that build-up, and reveal the youthful and healthy cells below. The Iluma Intense Brightening Exfoliating Powder is the best exfoliant for the job. This micro-exfoliator is made with coconut milk powder that is extremely gentle, so that you can use it as often and necessary. The result is skin that looks more radiant in mere seconds. It contains a new generation of natural botanicals, enzymes and antioxidants to help skin reach a new level of radiance. A lovely gift for the person who needs a little TLC this Christmas.
RRP €41
Image Skincare is available from approved salons nationwide.
L'Occitane Enchanting Rose Music Box
Gently turn this music box and let yourself be transported by the sweet melody of Nutcracker. Open it to discover four body treatments with rose floral notes. This is a delightful gift containing 75ml Rose Shower Gel, 75ml Rose Body Lotion, 30ml Rose Hand Cream and 50g Rose Scented Soap all in a beautiful keepsake tin music box.
RRP €35
Available to purchase instore or online here
New Eau de Parfums Le Matin des Possibles and Le Soir de Possibles by Nuxe
Nuxe has added two eau de parfums to their fragrance collection, two emotions in direct contact with the skin captured in the evanescence of the first and last rays of sunshine: a fresh and luminous morning and a sensual and bold evening. The result is an intense and poetic duality, freeing your senses and finally making everything possible. The graduated shading of the bottles and textured effects on the boxes reflect the first and last rays of sunshine.
RRP €49.50
Nuxe is available from Arnotts, selected Boots, Cloud 10 Beauty and all major pharmacies nationwide.
Brooke & Shoals
Irish brand Brooke & Shoals is well known for their luxury gifting. The multi award-winning range includes luxury gifts that smell amazing, create Irish jobs and have a lower carbon footprint than many other brands in their sector. Their range comes in candles made using only natural wax, diffusers, hand wash and hand lotion in scent favourites such as White Lily Ylang Ylang, Elderflower, Rhubarb & Rose, Sweet Pea & Tea Rose, Grapefruit & Lemongrass, Lemon Verbena & Bergamont, Saffron Patchouli & Oud, Sandalwood, Vanilla & Salted Caramel. Not only do they sell their stunning ribbon wrapped boxed candles, but they also have diffusers, hand wash, hand lotions and fragrances in the range too.
Pictured above: Scented Candle – Green Fig & Vetiver Wood – RRP €22
Our must have for that Christmas present this year is their seasonal Frosted Ginger & Winter Berry candle. It combines the comforting spices of ginger, cinnamon and nutmeg with the rich fruity notes of blackberries and bilberries to create a scent sensation that is so enticing, it is almost good enough to eat.
Pictured above:
The Brooke & Shoals Christmas Cracker Set includes 2 travel candles and retails at €20.
The Brooke & Shoals Christmas Bauble contains 1 travel candle and retails at €13.
Available from over 300 stockists nationwide including Meadows & Byrne, Carraig Donn, House of Fraser. Buy on-line at Brook & Shoals or we highly recommend a visit to their store in Greystones where they beautifully gift wrap all purchases.
Image Skincare Beauty Sleep Collection
This is a lovely collection from Image Skincare for anyone who has had a tough year. The products make the most of the skin's auto-repair mode. The nourishing routine delivers moisturising upgrades to lock in goodness at night, while a pure silk sleep mask helps to better your beauty sleep, Antioxidant's, Vitamin and Hyaluronic acid will help you wake up to revitalised skin.
The collection includes the Image Skincare Max Stem Cell Facial Cleanser 118ml, Vital C Hydrating Overnight Mask 50ml, IMask Hydrating Hydrogel Sheet Mask x2, Vital C Hydrating Anti-Aging Serum 15ml and pretty sleep mask gift.
RRP: €108.50
Image Skincare is available from approved salons nationwide.
Bondi Sands Glo Lights
New Bondi Sands Glo Lights is the perfect highlighter to give a lustrous, all day glow. It's a highly blendable, creamy highlighter to enhance and bring a natural glow to any complexion. Pioneered for everyday beauty, Glo Lights illuminating pigments work to softly glisten and give skin a touch of radiance to complete your makeup look.
Available in three shades (Bronze, Gold and Pearl) to suit all skin types, the highlighter may be worn alone to illuminate high points where light naturally hits the face or mixed in with a base product such as foundation for an all-over, flawless glow.
RRP from €15.99
Available in McCauley's pharmacy and Cloud10Beauty
Charlotte Posner
Introduce a touch of artistic fun to your everyday items with the Yoga Girl Water Bottle from Charlotte Posner. The bottle is stylishly designed with paintings of ladies in yoga-inspired poses, while it's made from non-leaking stainless steel and is lightweight to make things super convenient. RRP €22.95
We also love her whimsical espresso set with fabulous ceramic mugs which we think will make a lovely Christmas gif this year. RRP €55.95
The full Charlotte Posner range is available from Brown Thomas
CND Viviennne Westwood Junkyard Chic Collection
Designed by Marian Newman, this upcycled nail features chromed and metallized pieces of recycled plastic. Get this super scrapyard look using Brass Button or Mercurial, topped off with the CND Gel-Like Effect Topcoat for a high shine, metallic finish.
RRP €14.95
Available in good pharmacies nationwide.
Yon-Ka Paris Nutri+ Nutrition Booster
Oil rich serums are very beneficial for repairing depleted skins and preventing damage from heating, wind and cold which is why Yon-Ka Nutri+ booster, with cereal germ oils and vitamins, can be added to any day or night cream to add extra nourishment and improve the skin's resilience. This Ultra energetic oil nourishes and revitalizes all skin types. The skin lights up, recovering its suppleness, tone and vitality.
RRP €50
Yon-ka Paris skincare is available from approved salons nationwide.
Seoulista Beauty® Limited Edition Christmas Wonderland Advanced Clinic Duo
Seoulista Beauty have launched these wonderful purse-friendly luxury gift with two stylish limited-edition duos.
Golden Goddess – featuring two of Seoulista Beauty's Advanced Clinic Formulation Gold Glow Instant Facials, nestled in a gorgeous complimentary clutch, this is the perfect anti-ageing treat. The Gold Glow Instant Facial is infused with 30ml of high-tech ingredients including: Niacinamide, Adenosine and Vitamin C, along with seven potent active botanicals and Bulgarian Rose Complex to firm, hydrate and reduce the appearance of fine lines and wrinkles.
Shine Like A Diamond – featuring two of Seoulista Beauty's Advanced Clinic Formulation Diamond Radiance Instant Facials, in complimentary silver clutch, this is the perfect solution for bright and luminous skin. The Diamond Radiance Instant Facial is infused with 30ml of high-tech ingredients including Niacinamide, Adenosine and Vitamin C, along with seven potent active botanicals to exfoliate brighten and hydrate the complexion.
RRP €30
Available from Irish pharmacies and leading department stores nationwide and at www.seoulistabeauty.com.
Payot Hydra 24+ Concentré D'Eau 30ml
This serum provides a source of continuous hydration, it re-infuses the skin with water to quench thirsty skin. It provides intense and lasting hydration for 30 hours, to restore comfort, suppleness and radiance to the skin. This universal serum meets every woman's needs and can be used in addition to all types of intense hydration care. Skin is intensely hydrated, plump and luminous.
We're in love with its ultra-cool, watery texture that is quickly. Its light scent diffuses notes of bergamot and white tea on a spellbinding musk base.
RRP €47
Available in pharmacies nationwide and online at here at Cosmetics Online.
Accessorize Reece Rainbow Sequinned Clutch Bag
Give this gift to the girl in your life who loves a night on the town – the stunning Reece rainbow bag is guaranteed to look the part. This slouchy clutch is coated in beads and sequins, fastening with a magnetic press stud and easily carried with a detachable chain strap. Fully lined with an interior zip pocket.
RRP €45.90
Available in Accessorize stores and online at Accessorize
Søstrene Grene Gentle Skin Care Series
The series called Pure Bliss is completely absent of perfume, and all the products in the series are recommended by Asthma Allergy Nordic and bear the new, common Nordic brand. When a product carries this brand, one can be sure that the product does not contain perfume.
As always with Søstrene Grene, the aesthetics are not forgotten either, and the packaging is carefully designed to be able to decorate the bathroom shelf. The skin care series is also available in two variants with perfume for those who prefer care products with fragrance. These two series have the names Sage Dawn and Geranium Rain. All three variants of the skin care series are otherwise vegan and labelled as such by The Vegan Society, meaning they do not contain any animal ingredients.
RRP: Bodybutter 200ml RRP €5.48; Bodyoil 100ml RRP €6.48; Bodyscrub 200ml RRP €6.48; Bodywash 500ml RRP €4.98; Hand lotion 250ml RRP €5.80; Hand soap 500 ml, RRP €4.98
Available from Søstrene Grene stores
Real Techniques Artists Essentials Brush Set
Build her brush collection with the Real Techniques Artists Essentials. A step beyond the everyday essentials, this is an edit of artist brushes to detail, define, and accentuate €24.99 worth over €45 if you buy individually. The set contains: RT 217 Expert Edge Large Brush, RT 421 Soft Accent, RT 420 Spotlight Fan Brush, RT 317 Smudge Liner and RT 425 Lip Smudge Brush – pretty much every brush she will need.
RRP €24.99
Available from Shaws, all major pharmacy chains and independent pharmacies nationwide.
Birdhouse Nesting Box 5 Colours
For the women who has everything, these beautiful bird feeders are the gift that keeps on giving all year round. From the Blue Door, these bird houses from Sweden convert into nesting boxes in the spring. They come in 5 colours and we think they are so pretty.
RRP €59
Available from The Blue Door
Kilkenny Shop Jewellery & Knitwear
Kilkenny always has a focus on beautiful Irish jewellery and knitwear accessories. A gift that means more because it has a rich, local story because it is of the highest quality and because it is beautifully designed. This year, Kilkenny has a host of beautiful gifts, but our favourite is the Juvi and Jo Harpur jewellery from this look.
RRPs – Necklace by Jo Harper €120, Necklace by Juvi €165, Necklace by Juvi €75, Earrings by Jo Harpur €64, Bracelet by Jo Harper €78 (Top by Inwear €69.95)
Available from Kilkenny Shop or online here
Bird Cage Handbag
This stunning Missguided Bird Cage Handbag will brighten up any little black dress this Christmas. Gold frame with black velvet inner bag embellished with rhinestones and pearls.
RRP €33
Available from Zalando
Book Subscription Box by The Book Resort
The Book Resort is a new book subscription box company based in Waterford that delivers a luxury box with a new book, delicious Irish chocolate and a small surprise to book lovers every month. Monthly subscriptions are available and one-time gift boxes can be sent as a gift along with a handwritten card on the customers behalf. All suppliers are small Irish businesses. Offering free nationwide delivery (including to the North of Ireland).
Boxes are priced at €23 for a monthly subscription and €25 for a gift box.
Available from The Book Resort

Happy Plugs
Happy Plugs deluxe edition headphones and mic pretty as picture in pink.
Available from Zalando
RRP €33
Dermalogica Be Bright Ornament
This year's Dermalogica collection includes four kits, priced from €16.50 to €97.50, and includes a mix of best-selling hero products and new innovations in both travel and retail sizes. Each kit also features unique packaging artwork derived from street artist Kelsey Montague's murals – inspiring buyers to make her bold, uplifting art a part of their holiday gift-giving. Their holiday ornament features 13g Daily Microfoliant with a cut out wing design by Kelsey is a gorgeous gift for some one who loves good quality skincare products.
RRP €16.50
Dermalogica x Kelsey Montague is available at Dermalogica-authorised spas, salons and skin centres and at dermalogica.ie
Jo Malone Christmas Cracker
A Christmas cracker filled with a trio of scented surprises. English Pear & Freesia Cologne (9ml), Blackberry & Bay Body & Hand Wash (15ml) and Basil & Neroli Body Crème (15ml).
RRP €38
Available from Brown Thomas
Life is Better with Make-Up Day Look by Fuschia
Well-established premium make-up brand Fuschia believes that everyone needs a secret helper, to feel strong enough and confident enough to go out and perform at their absolute best. At Fuschia they make it their business to provide the tools for women everywhere to feel like this, every single day. They call this 'The Fuschia Effect'. This 'Life is Better with Make-Up Day Look' gift set includes the Fuschia Life is better with eye shadow palette, shine gloss, lippy, liner, blush and highlight.
RRP €47.50
Available in professional salons and pharmacies nationwide and for purchase on www.fuschia.ie
Personalised French Jam by Confiture Parisienne
There is nothing quite like a special jar of jam or marmalade – you'd never buy it for yourself but you'd love to receive it as a gift. The jam collection from Confiture Parisienne is just that gift. Made by hand in extremely small quantities using only the best seasonal fruit their jams are to die for. You can customise the label when ordering so everyone knows to keep their hands off this thoughtful gift. Varieties include raspberry, apricot and star anise, rhubarb with rose water or their divine chocolate cream tartine noisette.
RRP from €9.90
Available from Confiture Parisienne
Ella & Jo Squeaky Clean Brush Cleanser
Squeaky Clean Brush Cleanser was designed with both the professional and non-professional in mind. It has been produced and manufactured in Ireland and designed to change the mindset around brush cleaning and to take the "chore" element away. With modern day busy schedules, most of us, unless in the professional trade, don't find the time to clean our makeup brushes and tools as often as we should. This one product will clean, disinfect and condition the brush fibres on both natural hair and synthetic brushes so that brushes will last longer.
It is convenient to use and is specifically designed to extend the life of your brushes. Squeaky Clean Brush Cleanser removes pigments, oil and product residue leaving your brushes smelling fresh and ready for re-use within minutes.
RRP €20
Squeaky Clean Brush Cleanser is available in over 600 stockists nationwide. Find stockists on www.ellaandjo.ie
Lugano Belle loungewear by Melissa Mills Bari
We've been lusting after Melissa Mills Bari lounge wear and robes for quite some time so it's no surprise that her new Lugano Belle collection makes the cut. It's a limited-edition collection with stunning piping trim detail on the pocket, cuff and hem, made with 100% cotton and has pretty mother of pearl buttons.
RRP €69
Available from MMB Melissa Mills Bari
Gym+Coffee Gift Boxes
Gym+Coffee athleisure and lifestyle brand has a lovely range of gift boxes this year which feature their high-quality Irish designed clothing. This year, they have launched 7 gift box options for women. Each box contains their famous leggings, perfect tee, beanie, water bottle and socks with various colour options on offer. Combinations in-store have a little more flexibility in product choice.
RRP €100
Gift boxes can bought in Republic of Ireland stores or online here.
Where the Wild Cooks Go (Hardback) by Cerys Matthews (published by Penguin)
This book by Cerys Matthews is not your ordinary book gift. Cook your way around the world with Cerys Matthews' Where the Wild Cooks Go, with a Spotify playlist ready for each country, as well as poems, proverbs, curiosities and some very surprising aspects of world history. The pages of her 'folk cookbook' are brim-full of generations' old nuggets of wisdom, as well as stories about Catatonia touring days and other escapades, plus over a hundred recipes and cocktail ideas from 15 countries.
RRP €28
Available from all good book shops
Night Time Renewal Set by The Inkey List
British brand The Inkey List has caused quite bit of a stir since its launch last year. Hailed as a new The Ordinary, the extremely affordable range of skincare essentials has a gorgeous Night Time Renewal set this Christmas – a duo of two top products from The Inkey List. It includes: Retinol – the powerful anti-ageing ingredient renowned for stimulating collagen production and promoting skin renewal to reveal a more youthful-looking complexion and Polyglutamic Acid which plumps the skin and appearance of fine lines. Can hold four times as much moisture as Hyaluronic Acid and it also works as a fantastic primer before makeup application.
RRP €25
Available from Cloud10Beauty and good pharmacies nationwide
Apivita Intensive Moisturising Hand Cream with Hyaluronic Acid & Honey
This intensive moisturising cream helps to maintain the hands naturally hydration, while at the same time it nourishes and protects the skin. It moisturises beautifully thanks to ingredients such as hyaluronic acid, organic aloe vera juice, organic Greek olive oil and panthenol. The addition or organic beeswax and shea butter helps prevent irritation. It has a rich texture that is easily absorbed leaving hands extremely soft.
RRP €8
Available in pharmacies nationwide and www.cosmeticsonline.ie
Blank Canvas – Tools To Match Your Talent Brush Set
This is a gorgeous Christmas present for the beauty guru in your life. It is a three-tiered box set which contains 40 face and eye brushes from Blank Canvas Cosmetics. The value of the whole set comes to €440, which means a saving of €190.
RRP €250
Available from Cloud10Beauty, Blank Canvas and good pharmacies nationwide
Gift Card from Hermans Hair Salon
Hermans hair salon, Grafton street has been in business for almost 50 years and is one of Dublin city's longest standing salons. Since then Hermans has opened salons in Dundrum Town Centre, Grafton Street and Ballinteer along with Knights on the Green and Dundrum Town Centre. To thank its loyal customers this Christmas every Hermans client will receive a festive Christmas card filled with special discounts for the month of January to help beat those January blues. Included in each card is a blowdry for just €20 and €20 off any colour with a cut. If you aren't lucky enough to receive one of these vouchers, you can always pick a gift voucher up instore for that special someone.
RRP FREE! to loyal customers
Available from Hermans Hair Salon
Boots Soap & Glory Glazm-azing Goddess Collection
This is a dinky gift of a make-up selection from Soap & Glory. This goddess-worthy set features: Thick & Fast™ High-Definition Mascara in Jet Black 10ml, Crazy sexy kohl™ in Smoulder 0.5g, Love At First Blush™ Rosy-Radiance Shimmer Powder 7.5g and Spectaculips™ Lip Plumping Gloss in Bare Enough 7ml. With four products for €26 it's a great price point too.
RRP €26
Available from all Boots stores and Boots.ie