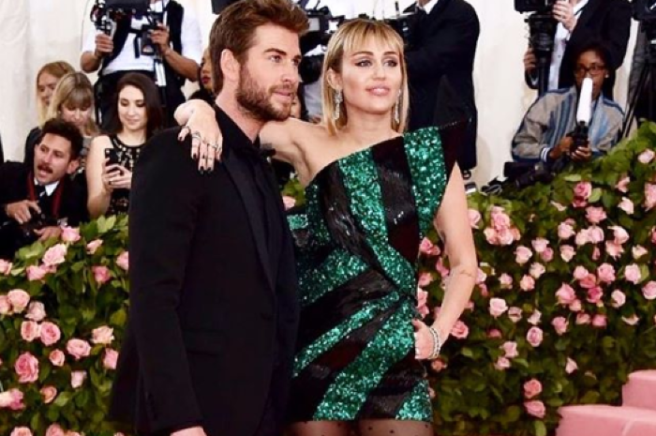 There's no doubt about it, Miley's got the best of both worlds. Between living her home life on a farm with gorgeous hubby and actor Liam Hemsworth one minute to gracing the Met Ball red carpet the next; she can live two lives.
Why is that familiar? Well, rumour has it…Miley has brought Hannah Montana back before our very eyes.
At the Gala, the singer showed up to the lucrative event in a short, edgy green and black Yves Saint Laurent minidress. She looked incredible, but many were surprised that she wore such a low-key look.
The #lewk may seem laid back to some, but one eagled-eyed Twitter fan spotted that the dress bears a STRIKING resemblance to a former Hannah Montana outfit back in the day.
Is Miley an actual genius, or are we just being paranoid? The Party in the USA idol recently cut her hair for a throwback vibe, and she looks absolutely gorgeous.
Her fabulously glam, angular YSL minidress is all kinds of fun, as well as her colour-coordinated hubby. Who knew that this entire time, she's been channeling her iconic teenaged character?
The fan @godneysbjs captioned the Instagram photo; "I knew this looked familiar," pointing out that we HAVE seen this outfit before and weren't going crazy.
The apparel is basically the same and we have officially been bamboozled by Miley again. How could the world miss a Hannah reference sneaked in? She's got new music coming out soon. so it would be the perfect promo opportunity.
As one Instagram commenter said, "Now that's camp." If this is truth, she totally nailed the Met's theme this year.
Feature image: Instagram/@mileycyrus