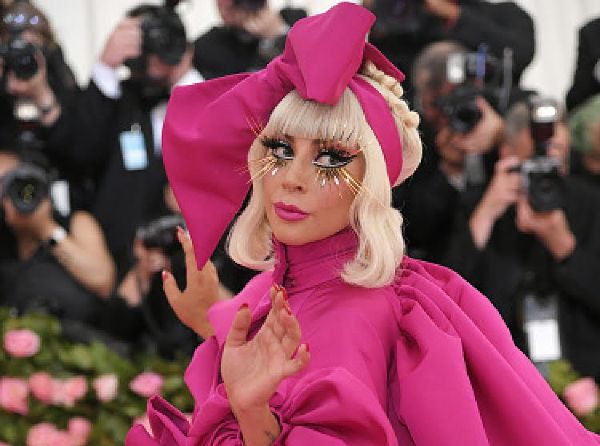 Tonights Met Gala celebrations in aid of The Costume Institute at New York's Metropolitan Museum of Art is an absolute smorgasbord of iconic, out-there fashion moments.
However, one of the most memorable looks came from the one and only Lady Gaga, who was one of the very first to arrive at the event.
Sweeping on to the powder pink carpet, Gaga completely embodied the gala's theme: Camp: Notes On Fashion.
It was already guaranteed that with a theme like that, the style needed to be showstopping, and in typical Gaga fashion, she stepped it up with not one, not two, not three, but FOUR iconic looks.
Each look was more stripped back than the last. Arriving on the pink carpet, Gaga truly made her mark in a billowing, oversized pink gown with a huge train.
The dress was so huge, it had to be manoeuvred through the entrance by an entourage of umbrella-holding, suit-wearing men, who posed around Gaga as the ultimate accessories.
Lady G's look was all about metamorphosis. In her huge pink number, she donned theatrically long metallic eyelashes and and over sized pink bow on her head.
As she ascended the steps of the Met, her umbrella-weilding assistants gracefully danced to her sides and began removing her billowing pink coverings, to reveal an asymmetrical, black gown beneath it.
Many assumed that Gaga was finished here, but no. Beneath the black satin dress, complete with a sweetheart bustier, was another dress too.
Her pink bow hat was also removed at this point, revealing a blonde bobbed haircut with dainty twists at the crown.
Her troupe began pulling at the black ball gown, and quickly unravelled it to showcase the streamlined, bubblegum pink dress beneath.
It was now that Gaga began really putting her acting skills to work. Her assistants began handing her some accessories for the pink column dress, including an oversized, diamond studded pair of sunglasses and a very 90s looking giant mobile phone,
This portion of the proceedings was very reminiscent of her The Fame era, where OTT sunnies and kitch accessories were a standard in the Gaga fashion package.
Her finale look was about the be revealed. Breaking free from her fuchsia pink constraint, Gaga stripped down to her underwear to reveal a classic Gaga look – perfectly fitting black lingerie teamed with breathtakingly high platform heels and diamond encrusted fishnet tights.
It's an outfit we have seen in both Gaga videos and performances, but on the pink carpet, she added a wheel-along pink bar cart, emblazoned with a Haus of Gaga motif.
The bar cart appeared to be chock a block with champagne, before it was wheeled away by one of her minions to allow Gaga to pose passionately, sprawled out on the steps of the museums' entryway.
Gaga is one of the hosts of the Met Gala 2019, and she certainly proved her Camp credentials.
While many celebs did not commit to the theme on the night, there is no denying that Gaga took it to a whole other level.
Feature image: Instagram / ladygaga_goddess