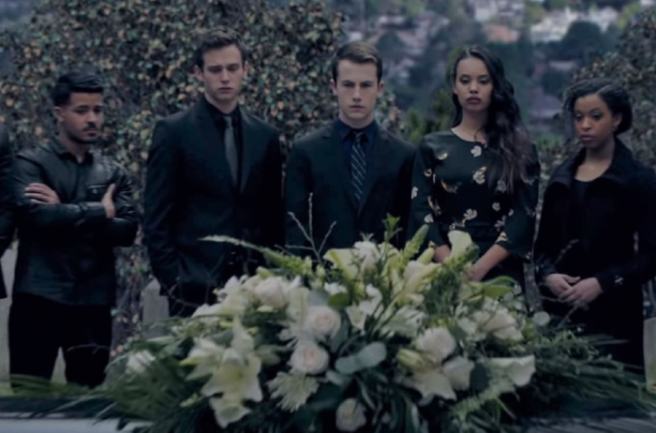 Teen drama 13 Reasons Why has been renewed for a fourth and final season on Netflix, Variety has just reported.
Season 4 is currently in production, with the trailer for Season 3 being released yesterday teasing the death of a major, yet controversial, character at Liberty High.
The core cast's graduation from high school will be featured in the final season, and Season 3 will debut on August 23 with 13 more drama-filled episodes.
Season 3 is set to pick up eight months after the events from Season 2, focusing on Clay (Dylan Minnette), Tony (Christian Navarro), Jessica (Alisha Boe), Alex (Miles Heizer), Justin (Brandon Flynn), and Zach (Ross Butler) discovering methods to handle the cover-up together while helping Tyler (Devin Druid) move on from his issues.
A turbulent Homecoming football game leads to the disappearance of a key player, and Clay becomes the subject of a police investigation. A shrewd outsider must guide the group from the danger which could release everyone's darkest secrets.
According to Variety's source, suicide will not be part of Season 3.
Timothy Granaderos, Anne Winters, Steven Weber, Brenda Strong. Amy Hargreaves, and Grace Saif will also feature in Season 3.
Showrunner and creator Brian Yorkey will executive produce with Mandy Teefey, Kristel Laiblin, Selena Gomez, and Joy Gorman.
The show is based on the novel of the same name by Jay Asher, which wrapped up at the end of the pilot season. Season 1 gained notoriety for its depictions of teenage suicide.
Season 2 was regarded as a step down from the first season, with critics and fans alike disapproving of the storylines. Netflix have only recently edited out the scene in Season 1 where Hannah (Katherine Langford) commits suicide.
The scene now shows Hannah staring at her own reflection in the mirror before cutting to her parents' reaction in a later scene, without showing the gruesome wrists-slitting bath scene.
"On the advice of medical experts, including Dr. Christine Moutier, Chief Medical Officer at the American Foundation for Suicide Prevention, we've decided with creator Brian Yorkey and the producers to edit the scene in which Hannah takes her own life from season one," a statement from the show read.
Feature image: Instagram/@13reasonswhy_13