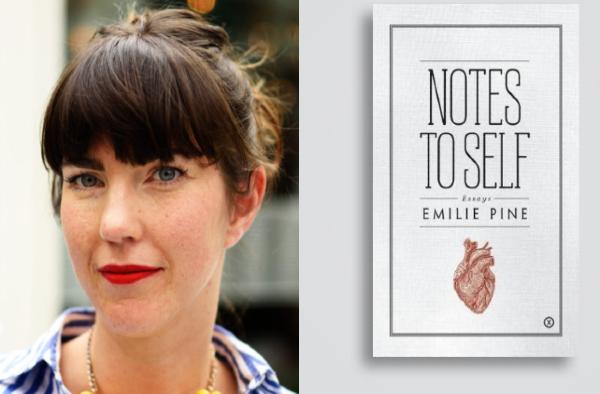 A gorgeous and powerfully vivid collection of essays written by Emilie Pine has won the An Post Book of the Year for 2018.
Notes to Self sees Pine writing on a variety of important moments in her life, including sexual assault, fertility problems, sexism in the academia sector, feminism, depression and addiction.
Published by Tramp Press, the book has been widely read around Ireland since it's publication, and has deeply resonated especially with women nationwide who relate to the stark and emotional work.
Delighted and honoured to win Book of the Year 2018, in the An Post Irish Book Awards! Thank you to everyone who voted, and most of all thank you to @TrampPress for asking me to write my story https://t.co/KOJHYh34jr

— Emilie Pine (@emiliepine) January 29, 2019
Emilie tweeted her joy at hearing the news, writing on Twitter: "Delighted and honoured to win Book of the Year 2018….Thank you to everyone who voted."
She also paid tribute to Tramp Press for commissioning the work, which tugged at the heartstrings of Irish women and men nationwide with it's brutal and visceral honesty.
The An Post Irish Book of the Year 2018 was handpicked by a public vote from a list of category winners which were recently announced at the An Post Irish Book Awards.
@emiliepine has won the @AnPostIBAS Book of the Year Award!! GO EMILIE #NotesToSelf thank you so so much everyone for your votes xx

— Tramp Press (@TrampPress) January 29, 2019
The esteemed prize boasts previous winners such as John Crowley's Atlas of the Irish Revolution, written with Donal Ó Drisceoil, Mike Murphy and Dr. John Borgonovo, Solar Bones by Mike McCormack, Academy Street by Mary Costello, The Spinning Heart by Donal Ryan, Belinda McKeon's Solace, Staring at Lakes by Michael Harding and Asking For It by Louise O'Neill.
Chairperson of the An Post Irish Book Awards Maria Dickenson said; "Emilie Pine's Notes to Self was one of the great stories in Irish bookselling in 2018 and I'm delighted that the voting public has chosen it as the An Post Book of the Year."
"The power and honesty of Emilie's essays have captivated readers, and it's truly gratifying both to see her talent rewarded and to see an Irish publisher like Tramp Press receive this well-deserved recognition," she continued.
WOW. Brave and brilliant writing. Unputdownable. Bravo, @emiliepine #NotestoSelf pic.twitter.com/IUDtjILSp6

— Kate L (@katie_l) January 29, 2019
Readers of the book couldn't put the engrossing work down. David McRedmond, CEO of An Post, commented on Emilie's wonderful win,
"2018 was a huge year for Irish writing and no book illustrates better why An Post is delighted to sponsor the Irish Book Awards: Emilie Pine's book, a challenging read, is deeply human and Irish, emotional and clever. An Post thanks all the voters for engaging with the Awards in such large numbers."
The An Post Irish Book Awards celebrate and promote Irish writing to a wide range of readers, bringing together a massive community who are passionate about writing. Readers, authors, booksellers, publishers and librarians unite to recognise Irish talent.
Congratulations to Emilie on her deserved achievement, we can't wait to consume her next piece of beautiful and fearless writing.