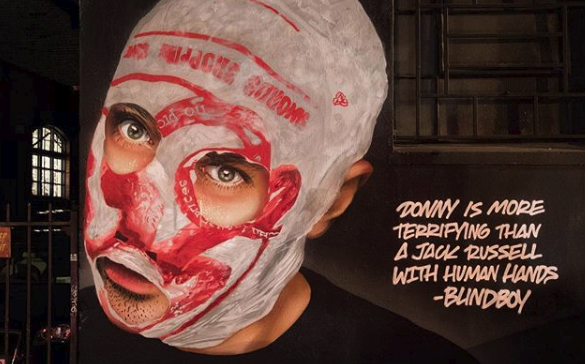 Dublin has some seriously creative street artists, who constantly battle with Dublin City Council to have their work maintained on Dublin's walls.
One half of The Rubberbandits, BlindBoy has been immortalised in spray paint on the outside of Dublin venue The Hangar.
The mural is the work of Subset, who showcased the piece on Instagram.
Subset are responsible for many of the beautiful works of street art Dubliners are lucky enough to encounter on the daily.
Remember that epic Stormzy mural down in Smithfield? You can thank Subset for that.
And the Make Dublin Grey Again mural which ruffled a few feathers thanks to it's depiction of Donald Trump?
Once again, Subset are responsible.
Not content with making an aesthetic piece, Subset added a quote against Donald Trump's leadership from BlindBoy which reads:
'Donny is more terrifying than a Jack Russell with human hands.'
The street art group have been fighting a long battle with Dublin City Council, who continue to paint over their art.
The council calls the art 'unauthorised developments,' and says that the work is a breach of city planning.
Head into town to see the piece for yourself.