Summer of 84 is hitting cinemas next month and it is the perfect summer scary movie.
Set (obviously) in the summer of 1984, the plot centres on a 15-year-old neighbourhood conspiracy theorist Davey, who starts to think that his police officer neighbour might be the serial killer that is being splashed across the local news.
Davey and his gang of friends quickly band together to form their own murder investigation squad, and they soon begin to seriously suspect that the cop, Officer Mackey, is the killer.
"Most movies don't have the balls to do what this film does…" Anthony Ray Bench reviews Summer of '84 as part of Film Threat's 2018 Sundance coverage. https://t.co/8pwzh1XIei #FilmThreatSundance #Sundance #SundanceFilmFestival2018 pic.twitter.com/cbBLryUoja

— Film Threat (@FilmThreat) January 27, 2018
There are obvious comparisons to Stranger Things. Both are set in 1980's America suburbia with a group of teenagers riding around on bikes and chasing unknown dangers.
However, instead of the supernatural, the dangerous force here is one that's grounded in reality – a serial killer.
Summer of 84 is more of a slasher than anything – think John Carpenter's Halloween's in the 1970's, Stephen King's Carrie or 1990's Scream.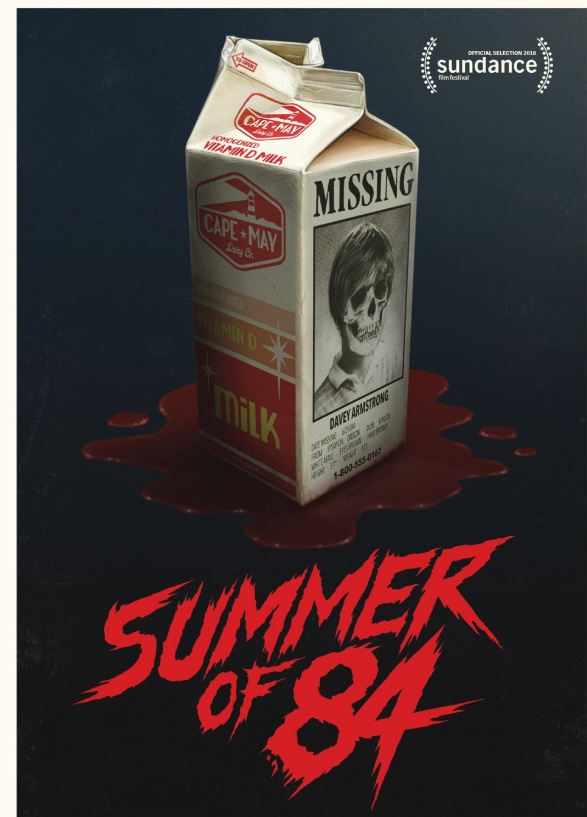 It seems that the horror genre is really having a moment.
Box office records were being broken left, right and centre in 2017 when it came to any kind of horror or thriller.
Jordan Peele's Get Out arrived early in the year, to a rapturous reception and a stunning $175 million at the box office.
The It remake was a huge surprise, nabbing the highest grossing horror record of all time at the US office, and earning $478 million worldwide. It is also the largest ever opening for a horror movie and the largest September opening of all time.
These figures speak for themselves and coupled with what is now the pop culture phenomenon Stranger Things, it's quite clear: scaring yourself in the cinema is officially in.
SUMMER OF '84: comparisons to "Stranger Things" and "It" are inevitable, but the film has some genuinely (un)pleasant surprises that make it more than 80s nostalgia. Truly creepy scares. Loved it! – Matt

— Screen Zealots (@screenzealots) January 23, 2018
So, for those of you who love the whole nostalgic kids-banding-together-against-evil like in It or The Goonies, then you're in for a treat with this latest cinematic offering.
Watch the trailer below for the first look at Summer of 84.